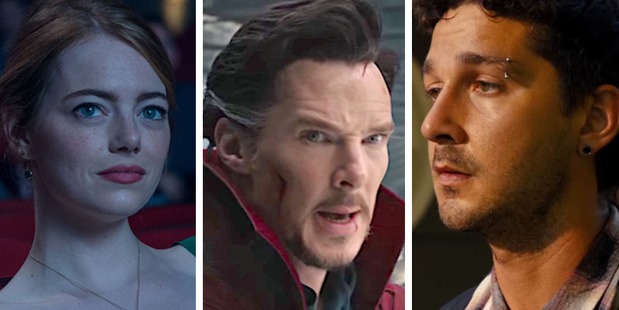 Out with winter, in with spring. Please hurry.
After a bruising three months when moviegoers often had to strain to find something good to see, this year's fall film season looms like an oasis. It's about to get better at the multiplex. Here are 10 movies, performances and story lines that AP film writers Lindsey Bahr and Jake Coyle are most looking forward to, come summer:
Lonergan-Mania
Little is settled about this spring's coming awards season except for this: Kenneth Lonergan's Manchester by the Sea is one of the best films of the year. Already celebrated at its Sundance premiere, it's the third film from the acclaimed New York playwright following the wonderful You Can Count on Me and the criminally underseen Margaret.
Casey Affleck excels as a small-town New Englander haunted by tragedy. Lonergan's naturalistic touch and deft feel for the rhythms and details of life remain unmatched. - Jake Coyle
Ang Lee, Innovator
Ang Lee is continually pushing cinema to new technological heights, and his adaptation of Billy Lynn's Long Halftime Walk is no less ambitious than bringing a hyper realistic CG Bengal tiger to the frames of Life of Pi. The first screening will be in 4K, 3D and 120 frames per second - essentially, hyper reality. Oh, and he also manages to meld all that tech talk with some extremely resonant stories. Take us there, Mr. Lee. - Lindsey Bahr
A more diverse Oscars
After two straight years of "OscarsSoWhite" blanketing a dishearteningly homogenous Academy Awards, a richly diverse array of possible nominees is lining up for this season. Though a rape case from the past is clouding the once-bright fortunes of Nate Parker's The Birth of a Nation, a revamped Academy of Motion Pictures may be hard pressed to ignore the likes of Denzel Washington's Fences, Barry Jenkins' Moonlight, Theodore Melfi's Hidden Figures and Jeff Nichols' interracial marriage tale Loving). - Coyle
Female directors to (re)discover:
While the percentage of female directors remains dismal, there are a number of exciting projects from new and veteran talents this fall, like the feature debuts of Julia Hart Miss Stevens, and Kelly Fremon Craig The Edge of Seventeen. Also coming are films from exciting veterans like Jocelyn Moorehouse The Dressmaker, Andrea Arnold American Honey and Kelly Reichardt Certain Women. - Bahr
A legitimately good Shia Labeouf
Performance-art theatrics have overshadowed the transformation Shia LaBeouf has undergone. He's made it easy to not take him seriously in recent years, and maybe that's been the point. But in Andrea Arnold's Midwest teenage odyssey, American Honey, LaBeouf and breakout star Sasha Lane are exceptional. The film is your opportunity to 1) See why LaBeouf was sporting a rattail last year; 2) Watch him dance to Rihanna on a Walmart check-out counter; and 3) See the vibrant latest from one of the most interesting directors currently working. - Coyle
Emma Stone gets a proper showcase
How do you come off of a dud like Aloha? By singing, dancing and romancing your way back into America's hearts in what could be a career-defining performance in Damien Chazelle's musical love story La La Land of course. Stone stars as Mia, a struggling actress in Los Angeles who falls for a moody musician in the form of Ryan Gosling. Looking like Singing in the Rain meets The Umbrellas of Cherbourg, 'La La Land - and Stone's touching melodies and emotive almond eyes - promises to have audiences swooning and sobbing in no time. - Bahr
Smarter spectacles
Even the blockbusters this fall look more enticing than the summer's. There's Denzel in glorious cowboy-hero mode in The Magnificent Seven, Peter Berg's visceral true tale Deepwater Horizon, the brainy smarts of Benedict Cumberbatch in Doctor Strange, the mind-bending sci-fi of Denis Villeneuve's Arrival and the cozy fantasy of J.K. Rowling's Fantastic Beasts and Where to Find Them. Oh, and another little Star Wars film is coming: Gareth Edwards' spinoff Rogue One: A Star Wars Story. - Coyle
Old Hollywood through Beatty's lens
The Golden Age of Hollywood holds a not-so-surprising allure for directors of a certain age, but perhaps none has seemed quite as suited to the task as Warren Beatty, coming off of a 15-year hiatus from acting and an 18-year break from directing with his long-time-coming Rules Don't Apply, once simply known as the Warren Beatty Howard Hughes pic. Beatty plays Hughes, but it looks to be more of a showcase for a youthful romance between an aspiring actress (Lily Collins) and her driver (young Han Solo himself, Alden Ehrenreich). - Bahr
Hailee Steinfeld grows up
Steinfeld was just 13 when she made her Oscar-nominated breakout in the Coen brothers True Grit in 2010. In Kelly Fremon Craig's The Edge of Seventeen- a coming-of-age tale in the John Hughes tradition - her maturation is self-evident. As a whip-smart but confidence-lacking high-schooler, Steinfeld navigates embarrassment after embarrassment with wit and spirit. - Coyle
The understated Mike Mills
Hell Yes: Mike Mills' '20th Century Women' Heads To .@TheNYFF https://t.co/73vpcN7YyV .@FilmLinc pic.twitter.com/7BLKAcub9j

— The Playlist (@ThePlaylist) July 27, 2016
Director Mike Mills takes his time between projects, but each is a lovely, whispered little cinematic event, from the tender Thumbsucker to the achingly poignant Beginners. His latest, 20th Century Women takes him back in time to 1979 Santa Barbara, where three women (Annette Bening, Greta Gerwig and Elle Fanning) explore what love and freedom means in their time. - Bahr
- AP