Chris Brown has been arrested on suspicion of assault with a deadly weapon, Los Angeles police say.
Police Lt Chris Ramirez says Brown was arrested and was being taken to downtown Los Angeles for booking.
The arrest came after a lengthy search of Brown's home.
Baylee Curran told the Los Angeles Times that Brown pointed a gun at her face in his home early Tuesday.
She says another man at his home and Brown became angry with her when she admired the man's diamond necklace.
Earlier, Brown took to Instagram to scold police officers outside his door after officers responded to a woman's distress call.
The Los Angeles Police Department said that officers from homicide and robbery division, which deals with celebrity cases, headed to Brown's address after a woman called for help at 3.11am.
Brown left his Los Angeles home peacefully after an hourslong standoff with police.
Ramirez said several people were escorted from the residence after a search warrant was served.
Police said the woman who made the call for help about 3am was not inside the hilltop estate in the San Fernando Valley. Ramirez did not identify the woman or elaborate on the assistance she needed. He did not know if she was injured.
Brown's attorney Mark Geragos arrived at the home shortly before the warrant was served.
Brown posted videos on Instagram in which he sought to ally himself with the Black Lives Matter movement against police brutality.
"You've all got to stop playing with me like I'm the villain here, like I'm going crazy. I'm not," the visibly angry Brown said.
"When you get the warrant for whatever you need to do, you're going walk right up in here and you're going to see nothing, you idiots," he said.
"You're all the worst gang in the world, the police," he said.
* Watch the clips here (warning: explicit content).
NBC television said that the woman had told police that Brown pointed a gun on her. The gossip site TMZ said that Brown threw a duffel bag outside to the police.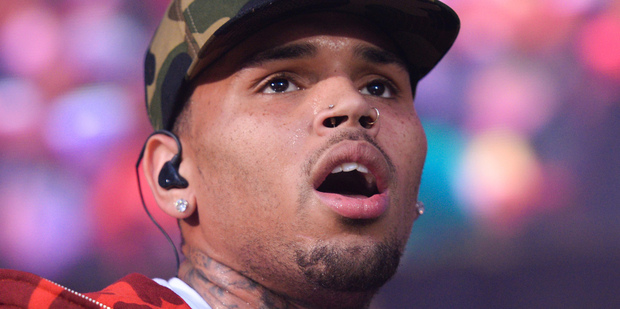 The R&B singer, who topped the US singles chart with Run It! and Kiss Kiss, has had years of run-ins with the law.
Most notoriously, he was convicted of beating then girlfriend Rihanna before the 2009 Grammy Awards, forcing the pop singer to miss the music industry's annual gala.
In 2014, he pleaded guilty to assaulting a man outside a Washington hotel and earlier this year was accused of battery by a woman in Las Vegas.
He was accused last year of fraud in the Philippines for failing to perform a concert, also leading the singer to voice anger on Instagram while he waited to leave the country.
- AFP