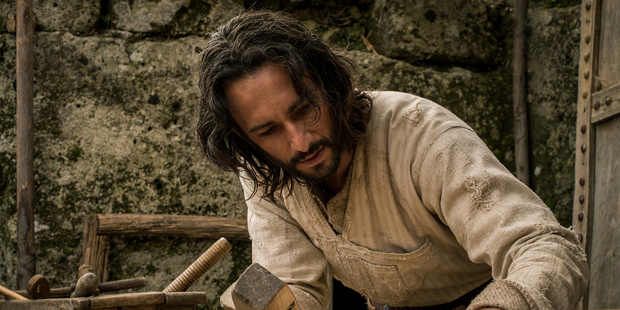 A big-budget remake of Ben-Hur was trampled under a herd of holdovers and new releases at the box office, the latest casualty in a bruising movie season for Hollywood.
The Paramount Pictures release, which cost about US$100 million (NZ$138 mill) to make, debuted with just US$11.4 million (NZ$15 mill), according to studio estimates. That makes it one of the season's more pricey flops, albeit one that never had anything like the ambition of 1959's Charlton Heston epic.
Instead, Warner Bros.'s much-maligned DC Comics supervillain team-up film Suicide Squad held the top spot for the third straight week in the US with an estimated US$20.7 million over its third weekend. It has now made US$262.3 million in America (fourth best for the season) despite steep declines and poor reaction from critics and fans alike.
Seth Rogen's foul-mouthed food animated comedy Sausage Party - which will be released in New Zealand this September - continued to do well for Sony Pictures.
In its second weekend, it took in US$15.3 million, good enough for second place, and bringing its two-week total to US$65.3 million.
Two offbeat debuts slid in behind Suicide Squad and Sausage Party: the Iraq War comedy War Dogs, with Miles Teller and Jonah Hill; and the stop-motion animated Kubo and the Two Strings from Focus Features and Laika Entertainment.
War Dogs, the first movie after The Hangover trilogy for director Todd Phillips, was lambasted by critics, but it sold a decent US$14.3 million in ticket sales.
Kubo and the Two Strings, an acclaimed fantasy about a boy in ancient Japan, debuted with US$12.6 million, the weakest opening of any film from Laika, the Oregon-based animation studio behind Coraline, ParaNorman and The Boxtrolls. Kubo and the Two Strings was fashioned as Laika's most ambitious film yet, with the company's chief executive, Travis Knight, making his directorial debut.
But after the fifth place opening of Ben-Hur, the second coming of the sword-and-sandal movie appears to be attracting dwindling flocks of moviegoers.
A coproduction between MGM and Paramount, Ben-Hur is the third adaption of Lee Wallace's novel, Ben-Hur: A Tale of the Christ. With producers Mark Burnett and Roma Downey (The Bible miniseries), the film courted Christian moviegoers. But it was unable to turn them out as successfully as Paramount did for Noah (which debuted with US$43.7 million in 2014) or even Fox's less popular Exodus: Gods and Kings (a US$24.1 million opening in 2014).
Still, fueled by Suicide Squad and Sausage Party, the box office was up more than 22 percent over the same weekend last year, according to comScore. Despite the ups and downs of individual films, the box office overall is enjoying a potentially record August - usually a sleepy month of summer stragglers.
Estimated ticket sales for Friday through Sunday at U.S. and Canadian theaters, according to comScore. Where available, the latest international numbers for Friday through Sunday are also included. Final three-day domestic figures will be released Monday.
1. Suicide Squad, $20.7 million ($38 million international).
2. Sausage Party, $15.3 million ($2.1 million international).
3. War Dogs, $14.3 million ($6.5 million international).
4. Kubo and the Two Strings, $12.6 million ($900,000 international).
5. Ben-Hur, $11.4 million ($10.7 million international).
6. Pete's Dragon, $11.3 million ($5.7 million international).
7. Bad Moms, $8.1 million ($3.9 million international).
8. Jason Bourne, $8 million ($10.7 million international).
9. The Secret Life of Pets, $5.8 million ($45 million international).
10. Florence Foster Jenkins, $4.3 million.
- AP