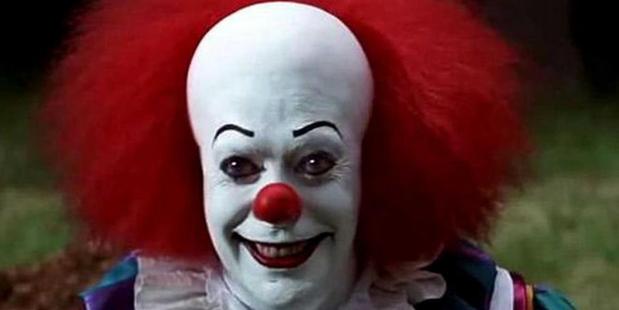 Stephen King's horror classic IT is getting a big-screen remake, just when we'd finally forgotten about Tim Curry's sickening turn as the sewer-dwelling clown Pennywise in the original miniseries.
And stepping into those clown shoes? None other than Bill Skarsgard, brother to Alexander and son to Stellan.
Last month, the filmmakers unveiled a first look at Pennywise - but it was a tight, dark shot of the clown's face that didn't give too much away. Today, they've gone the whole hog, releasing the first full-length glimpse of Pennywise to Entertainment Weekly:
If the first look at Pennywise's new costume was too dark for you, now he's stepping into the light. pic.twitter.com/MaAe6B5lqv

— Collider News (@ColliderNews) August 16, 2016
Rather Shakespearean, no? His outfit is the work of Emmy-winning costume designer Janie Bryant who "crafted a form-fitting suit that draws upon a number of bygone times - among them Medieval, Renaissance, Elizabethan, and Victorian eras".
"The costume definitely incorporates all these otherworldly past lives, if you will," Bryant told Entertainment Weekly. "He is definitely a clown from a different time."
"There is almost a doll-like quality to the costume," Bryant continued.
"The pants being short, the high waistline of the jacket, and the fit of the costume is a very important element. It gives the character a child-like quality."
It was always going to be tough to top the terrifying vision of Tim Curry as Pennywise from the original 1990 miniseries, and so far, horror fans are divided about Bryant's vision, with some labelling the costuming as too fussy and frilly for such a fearsome character.
Since the big reveal he's drawn comparisons to everyone from a Baby Grinch to a Ru Paul's Drag Race contestant:
LMAO! The new Pennywise looks a fool. pic.twitter.com/n2zUkFfYU8

— Saint Pest (@KidFury) August 16, 2016
The new Pennywise the Clown outfit reminds us of something... pic.twitter.com/MaYeXUi6bO

— ScreenJunkies (@screenjunkies) August 16, 2016
Urgh.

The new Pennywise design is trying way, WAY too hard, and misses the point. pic.twitter.com/4qRMlHRjbg

— John Cullen (@nellucnhoj) August 16, 2016
new pennywise finally answers the question of what would happen if red queen and baby grinch hooked up pic.twitter.com/yY0FDfyRLF

— Dinosaur Dracula (@DinosaurDracula) August 16, 2016
Torn about this. Curry's Pennywise was scary cause he DIDN'T look scary at first. Then the teeth came out. D: https://t.co/hiIyzL1nd4

— TechRat (@TechRat076) August 16, 2016
Who wore it better? @katya_zamo or @StephenKing's Pennywise? #Ruview pic.twitter.com/pHwsAxnZG6

— XL Clefairy (@UnlikeClockwork) August 16, 2016
IT will be split over two films, with the first part to be released in September 2017.