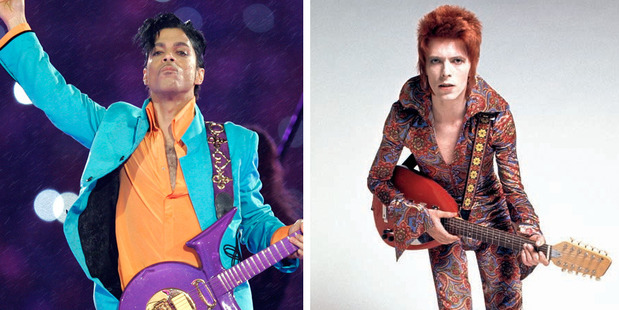 Bidders paid a combined total of more than $210,000 for a lock of David Bowie's hair and Prince's iconic "Yellow Cloud" guitar at a Beverly Hills auction on Sunday.
Heritage Auctions, which prompted legal action by offering Whitney Houston's Emmy Award as part of a separate sale, said the snippet of Bowie's pale blonde hair went for around $26,300.
READ MORE:
•Millie finds happiness in Greece
•Adam Parore splits from wife of two years
It came from a former employee of the Madame Tussauds Wax Museum in London who was tasked with recreating the music icon's 1983-era hairdo for his wax figure.
Prince's instrument of choice during the late 1980s attracted a winning bid of a little under $193,000, with unconfirmed reports saying it had gone to Indianapolis Colts owner Jim Irsay.
Bowie and Prince, two of the most influential artists in pop history, died within months of each other earlier this year - the so-called "Thin White Duke" after a battle with cancer and the reclusive Purple Rain singer of an opioid overdose.
He was rarely photographed during the late 1980s without his bright yellow maple wood instrument, complete with a distinctive elongated upper horn.
"As celebrity stage-used instruments go, this piece is as unique as Beethoven's piano or John Coltrane's saxophone," Garry Shrum, Heritage's director of music memorabilia said when it was put up for sale.
The Yellow Cloud was used in the studio, in videos and at gigs until the neck broke on a French TV show in 1994.
It was repaired, but confined to the recording studio and eventually made way for the "Symbol" guitar identified with Prince's later work.