Howard says a childhood on film sets doesn't stop her having fan moments.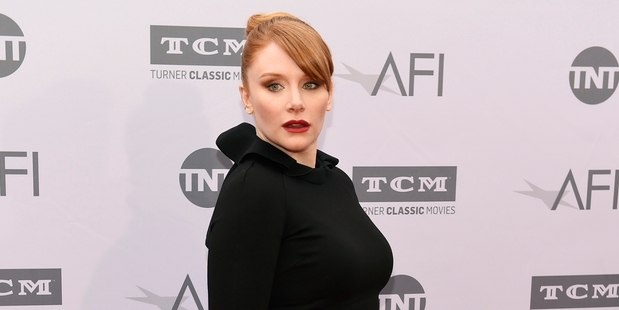 She grew up around movie sets watching her father direct Tom Cruise, Robert De Niro and other Hollywood greats, yet Bryce Dallas Howard still has her moments of giddy fandom.
The 35-year-old actress recalls her somewhat undignified first meeting with Robert Redford on the set of her new film, Disney's remake of its own 1977 classic Pete's Dragon, directed by David Lowery.
"There was this big empty road and we were supposed to run towards each other and reunite. It's an emotional thing," she tells AFP.
"I was very far away from set and David yelled action. We were running towards each other and I kind of picked up speed because I was so excited, and totally barrelled into him."
Howard says the 79-year-old Redford was still robust enough to take the hit, if somewhat taken aback at an actress coming at him "like a cannonball".
It is a neat anecdote because it encapsulates well Howard's self-effacing charm.
Whether she is talking about growing up in rural Connecticut, taking her children to school or filming some of history's biggest blockbusters, she could be any mum-of-two in America.
The eldest of four children of Ron Howard, the Happy Days star turned Oscar-winning director, the actress divided her childhood between film studios and having adventures around the family home.
"I would go away into the woods behind my house all the time. One time I got lost, which was really bad. But I eventually got my way home after dark and no one in my family had noticed," she says.
The wonder of growing up in the great outdoors is a central theme of Pete's Dragon, the story of an orphaned boy and his best friend Elliot, who happens to be a giant green fire-breathing beast.
Howard grew up with the original movie playing on a loop, but says another reason for taking the part of forest ranger Grace was the opportunity to spend six months in New Zealand.
She and her husband of 10 years, the actor Seth Gabel, were able to create "wonderful memories", she says, for her children, who are 9 and 4.
"We lived in ... a really little house, all of us on top of each other, and it reminded me a lot of the experience I had during Far and Away with my dad," she says.
"We went to Dingle, Ireland, and we all four kids slept in one bed and there were sheep at our window in the morning waking us up."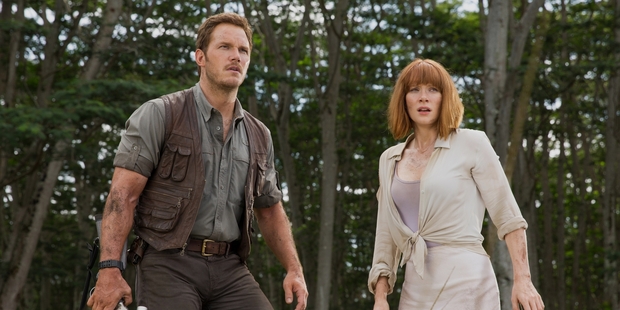 Howard's career almost literally fell into her lap when, as a 21-year-old stage actress, she was spotted by M. Night Shyamalan, the director of The Sixth Sense.
He invited her to lunch an tossed the script of The Village in front of her, and without having to go through the formality of an audition, she landed a lead part.
A Golden Globe nomination as Rosalind in Kenneth Branagh's As You Like It was followed by Spider-Man 3, the beginning of Howard's association with studio blockbusters.
She appeared in Terminator Salvation, played a vampire in the most critically appreciated of the Twilight movies, Eclipse, and was a deliciously spiteful socialite in The Help.
But Howard is probably best known for her part as park boss Claire Dearing in dinosaur adventure Jurassic World, the fourth-highest-grossing film of all time.
Filming on the sequel begins next year, and social media has been awash with rumours about the direction it might take - including a move away from the theme park and the disastrous development of dinosaurs as pets.
"I think the safest, most professional thing to do is not say anything, unless it is said before I say it," the actress says diplomatically.
Back to the current large predator in Howard's life, observers have noted that Pete's Dragon is coming out just as the Disney juggernaut has hit a bump in the road.
Alice Through The Looking Glass debuted in May to a disappointing domestic opening weekend of US$27 million ($38 million), a quarter of its predecessor's box office, and critics have asked whether the public is beginning to tire of Disney's production line of live-action remakes.
"I ... am not yet fatigued. There has been so much time between the films. I was ready for there to be a Cinderella, for there to be a Jungle Book," says Howard.
"Same deal with Alice in Wonderland, particularly the first. I was like 'what are they gonna do?' There are always ebbs and flows."
Pete's Dragon opens in New Zealand in September.
- AFP