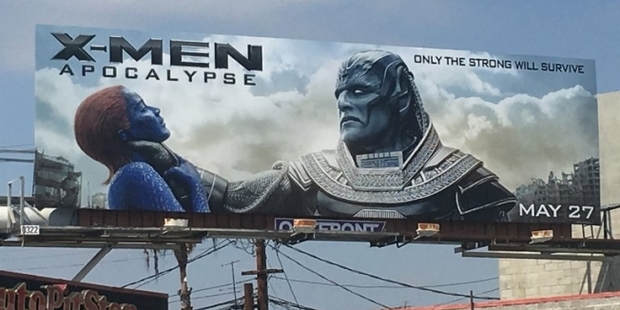 After a public outcry, 20th Century Fox has apologised for its X-Men: Apocalypse billboard, which showed a leading female character being choked.
The ad appeared in major US cities, depicting the film's villain Apocalypse holding one of the franchise's lead female characters Mystique (Jennifer Lawrence) by the throat.
The backlash started when actress, Rose McGowan took to social media to say: "There is a major problem when the men and women at 20th Century Fox think casual violence against women is the way to market a film.
"There is no context in the ad, just a woman getting strangled. Imagine if it were a black man being strangled by a white man, or a gay male being strangled by a hetero? The outcry would be enormous. So let's right this wrong," she wrote on Facebook.
I'll be happy when they take down the xmen billboard by my train. Bad guy has mystique by the throat.

All I see is a man choking a woman >:(

— Isanami Shiho :) (@astrangerenters) May 26, 2016
Yes, the #XMen billboard did go too far. Every moment of exposure to domestic violence in media rationalises it. pic.twitter.com/5LR7zbOsWj

— Tom (@Tomifonication) June 5, 2016
@rosemcgowan YES! Calling out the XMen Billboard is the kind of eloquent, smart, on target and teachable moment that we ALL need. Thank you!

— Therese McLaughlin (@mcheadly) June 5, 2016
Now, Fox has said: "In our enthusiasm to show the villainy of the character Apocalypse, we didn't immediately recognise the upsetting connotation of this image in print form.
"Once we realised how insensitive it was, we quickly took steps to remove those materials. We apologise for our actions and would never condone violence against women."
McGowan has also garnered criticism for speaking up, but taking to Facebook again she said: "Someone has to, may as well be me."
God, most of you boys are being such crybabies. It's truly impressive. Someone took away your female punching bag toy. Waaaah.

— rose mcgowan (@rosemcgowan) June 4, 2016
"My favorite thing is when someone says I'm not qualified to speak on such things. If I'm not, who is? I toiled in the bowels of Hollywood since age 15. If I'm not qualified, who is?"