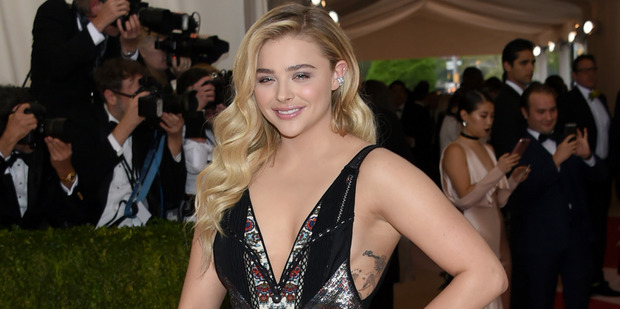 Chloe Grace Moretz has fought back over accusations of prudish behaviour in her Twitter spat with Kim Kardashian over the reality star's naked selfie.
The 19-year-old actress tweeted Kardashian after she Instagrammed the shot, saying that it was important to teach girls "we have so much more to offer than just our bodies".
Read more:
• NZ dancer backing Riri
• Naz or Fleur - Do we really care?
@KimKardashian I truly hope you realize how important setting goals are for young women, teaching them we have so much more to offer than-

— Chloë Grace Moretz (@ChloeGMoretz) March 7, 2016
Kardashian bitterly replied: "Let's all welcome @ChloeG Moretz to Twitter, since no one knows who she is. ..."
let's all welcome @ChloeGMoretz to twitter, since no one knows who she is. your nylon cover is cute boo

— Kim Kardashian West (@KimKardashian) March 8, 2016
Speaking to Glamour US magazine, Moretz defended her original post, saying: "That picture wasn't linked to body confidence... It was done in a slightly voyeuristic light, which I felt was a little inappropriate for young women to see.
"It wasn't slut-shaming. It's not about body shaming."
There's a huge difference in respecting the platform that you're given as a celebrity and "slut shaming" something I never have done and -

— Chloë Grace Moretz (@ChloeGMoretz) March 8, 2016
- would never do

— Chloë Grace Moretz (@ChloeGMoretz) March 8, 2016
She admitted to bursting into laughter at Kardashian's response."I don't have 45 million followers or a TV show that follows my life. But people know who I am. I pride myself on having opinions, and I don't express them in snarky ways toward people."
Talking about sharing her own bikini selfie, Moretz said: "I do it because it's a body-confidence thin ... It wasn't me sexualising myself.
"When I posted it, I knew that there would be a lot of young women looking. So I made sure that it was tasteful.... I get called prudish....I get called names for not showing myself off."
Moretz will next star as a young sorority girl in Bad Neighbours 2: Sorority Rising alongside Seth Rogen, Zac Efron and Rose Byrne.
The Carrie actress, who is rumoured to be dating Brooklyn Beckham, also opened up about her love life and the importance of keeping it out the public eye.
She explained: "It's no one's business. These moments are supposed to be so personal and special - you're building a foundation with someone or just having fun and going on a date.
"No one needs to know about that, and I hate to see that stuff broadcast on TV."
Moretz, who has four brothers, two of whom are gay, said she is the type of person to "start swinging" if someone offends her family - recalling homophobic insults thrown at her brothers on a recent family holiday.
The family were raised by her mother Teri alone after her father left when Moretz was 12, and she credits her brothers for stepping up to stop her becoming "jaded and ruined".
Speaking of her father, she said: "I don't think I will truly find a way to forgive; the things that he did are unforgivable.... My forgiveness is that I'm living my life."

- PAA