It wasn't one of the girls cracking up during last night's intense rose ceremony - it was the Bachelor himself, Jordan Mauger.
Mauger eliminated Gab from The Bachelor NZ, but not before an emotional cocktail party and rose ceremony that left several girls in tears and had Mauger walking away for some time out before giving out his final rose.
"Tonight it has become extremely real," Mauger said, admitting the decision over who to send home was the hardest he'd had to make so far in the TV3 romance reality show.
While deliberating over whether he should give his final rose to Naz or Gab, Mauger broke down and walked off, telling the girls, "Just give me a moment".
After some consoling and words of encouragement from host Mike Puru, who told Mauger to "go with your heart", he returned to give his final rose to Naz, leaving her in the top three with Fleur and Erin, and eliminating Gab.
"Thanks for the awesome, crazy, emotional evening and journey. It's remarkable, you're an awesome guy, enjoy the rest of it," the 29-year-old marketing manager told Mauger during her exit.
Later, she said: "If I'm not the one for him then he's not the one for me. You just have to look at things (with your) glass half full."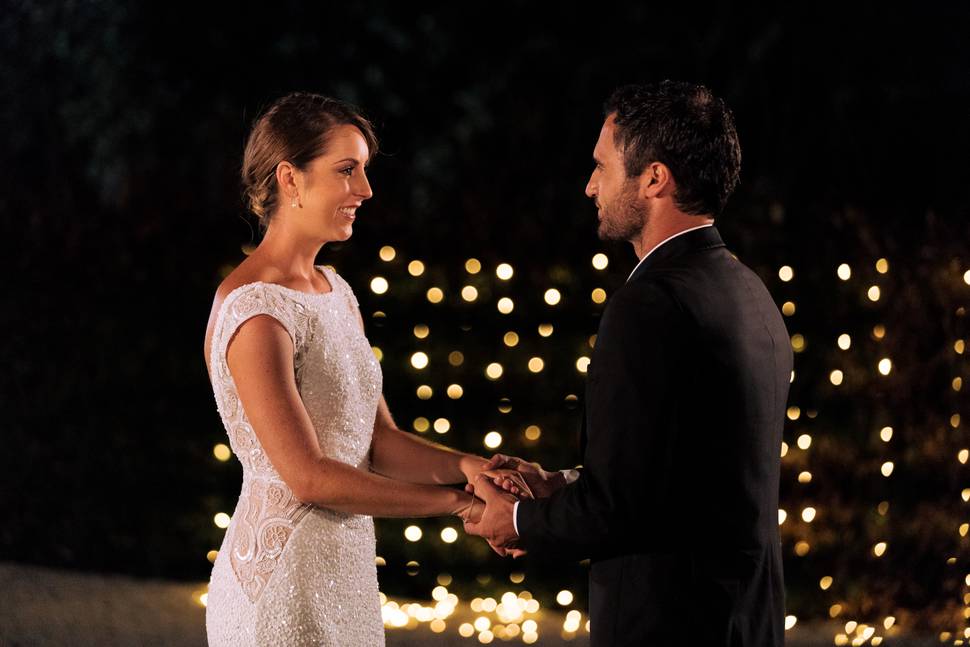 That wasn't the only drama during the episode, as a showdown between Naz and Fleur during the cocktail party ended with Fleur walking out and declaring, "I'm over this, I'm done".
It was sparked when Fleur took Mauger off first for some one-on-one time, despite having seemingly made a pact with Naz to let her go first.
After interrupting their cosy chat, Naz confronted Fleur about it, but Fleur said it "must have gone right past me" and didn't want to talk about it.
She then burst into tears and walked away from the party, saying: "I hate being called a liar. I'm not. To be honest I just want to go home. I'm over this. I'm done."
After consoling from Mauger, she told him she was "missing home, I'm missing my family". She received the first rose from Mauger during the rose ceremony.
Earlier, Erin received earrings, a rose and a passionate kiss from Mauger during their date, which included a cave walk and a cuddle in a hay barn.
A double date with Gabrielle and Naz ended with Naz and Mauger having some one-on-one time after a mountain bike trail ride.
"If you want something you've really got to work for it, and I want you, so I'm working hard," admitted Naz. Mauger cut her off to find Gabrielle, who had fallen behind the pair.
More from Spy:
• All Black announces new addition to the family
• Meet The Bachelor's real leading lady
Other revelations included Mauger admitting to Erin that he had kept all his baby teeth, and that his first soft toy was a shark.
Fleur, Erin and Naz are left in the running to win The Bachelor NZ. Next week the remaining contestants will introduce their parents to Mauger.