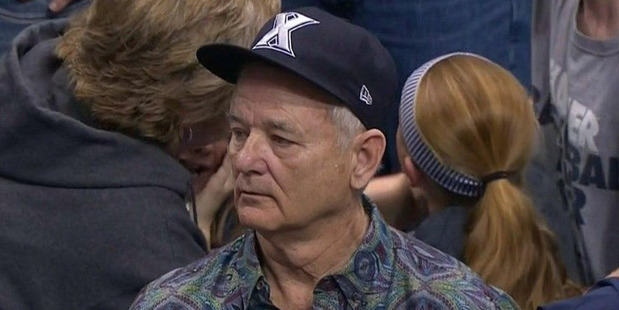 Poor Bill Murray. When the actor watched Xavier University lose to Wisconsin in a major March Madness college basketball game, he was hurting.
All his NCAA March Madness tournament hopes came crashing down into a devastating March Sadness - sprawled on his flummoxed face for all to see. And a new internet meme was born.
Earlier, things had been looking up. Murray was so damn excited, he lost control of his finger.

Read more:
• Thrones star charms at private party
• Iggy goes topless, dismisses Lorde spat


But this joy wasn't to last. And after the game-ending shot, the cameras swung toward the 65-year-old star who was sitting court side to support his son Luke, an assistant coach for Xavier.

Some people are incredibly happy after a buzzer beater...others aren't.

Posted by CBS Sports on Sunday, March 20, 2016
Murray could do nothing to hide how utterly heartbroken he was, even while just behind him a kid was losing her mind.
What he needed was a hug and a beer and Netflix. But the internet doesn't do sympathy, so it memed the hell out of his despondent face.
And - sorry, Murray - but it was glorious.
Sad Bill Murray was immediately compared to crying Michael Jordan, leading to some excellent photoshopping. (Two reasons. The two acted in Space Jam together. And Jordan weeping in his 2009 Basketball Hall of Fame induction speech is a popular meme in itself.).
March Sadness continues..#Xavier #BillMurray pic.twitter.com/3oJYN9z6oV

— Bryce Wood (@woodymlb4) 21 March 2016
Sad Bill Murray and crying Michael Jordan could use some cheering up from Bugs.
21 March 2016
Sad Bill Murray finding comfort with #CryingJordan. #Badgers pic.twitter.com/kDGe292sEH

— Mike Thiel (@ThielWrites) 21 March 2016
Sad Bill Murray #twinning with a depressed puppy.
Which one is Bill Murray? pic.twitter.com/Dp3fsr0O36

— Mikey Kierski (@MickeyMouser143) 21 March 2016
Sad Bill Murray finds himself next to Donald Trump.
#BillMurray #MarchSadness Poor Bill Murray pic.twitter.com/vBwSYntzbT

— EG Collins (@EGCollins) 21 March 2016
Sad Bill Murray because tests are hard.
Sad Bill Murray asks what else is there to live for.
Keep 'em coming, you legends.
@iamjoonlee pic.twitter.com/M2XwP7au03

— Alex Layden (@Layds_) 21 March 2016

- news.com.au