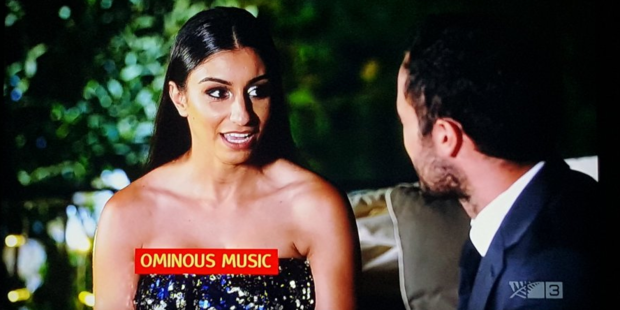 Now the very awkward hurdle of Bachelor NZ introductions are over, it's straight down to the nitty gritty.
Smiles were already wearing thin for the 20 women left to compete for the affections of Kiwi Bachelor Jordan Mauger. The claws, if not fully out, are being sharpened in preparation.
Claws are coming out tonight! #TheBachelorNZ

— Kerie Sutherland? (@LilKerie) March 8, 2016
'He deserves someone real' says the most fake cringe-worthy girls in the house #thebachelornz

— Olivia (@LiviNZ) March 8, 2016
If looks could kill.... #TheBachelorNZ

— Tamz (@vivalatamz) March 8, 2016
How come all the ethnic girls have been put into #TheBachelorNZ's villain camp?

ON EVIL ISLAND: "Aw she's so fake." "Totes."

— Troy Rawhiti?Forbes (@TroyRF) March 8, 2016
*camera cuts to chef sharpening knives* oh shit sorry guys, is this a bad time? #TheBachelorNZ

— Melanie Bracewell (@meladoodle) March 8, 2016
Wowsers the cat claws are out. New name The Bitchelor. #TheBachelorNZ #bitchelor

— Belinda Lally (@BelindaLally) March 8, 2016
Naz, a 25-year-old landscaper from Hamilton, came in guns blazing on Monday and is one to watch on the cat fight front.
She's already ruffled feathers in the hen house (mansion) after snaffling two sittings with Mauger at the all important meet-and-greet cocktail party.
This is how episode two of season two began- and Twitter users were prepared to pounce with fresh material.
I think Naz is on the wrong show. She'd be great on Jersey Shore, or something similar with that savage ass tan. #TheBachelorNZ

— Ana (@anakivalu) March 8, 2016
Someone give Naz a bottle of vodka, a sharp knife and the keys to everyone else's room. You know, just see what would happen #TheBachelorNZ

— Athena macmillan (@athenanbubs) March 8, 2016
Girls: So did you kiss? #TheBachelorNZ
Sarah: No.
Naz: pic.twitter.com/ZM0AUWvXHV

— Jayde Meech (@JaydeyMeechey) March 8, 2016
Naz is so salty!!! #TheBachelorNZ

— 1D will live forever (@niallmynugget_) March 8, 2016
Moving on from last night's dress choices and Bachelorette blunders - viewers witnessed the first one-on-one date, and it was more awkward than expected.
Christchurch hairdresser Sarah, 30, headed out on the water to try her hand at wake-boarding for the first time.
There was a kiss, they made their own ice cream up the Sky Tower ... then a rose.
Those days when you spend hours on your hair and makeup to be dragged behind a boat for an hour looking like a fool... #TheBachelorNZ

— Jess (@j_sweden) March 8, 2016
Sarah looks like maybe she should have layered on more sunscreen while out wakeboarding #TheBachelorNZ

— cocobeats (@RussellNay) March 8, 2016
Not much of a date when he is in a vehicle and you are never closer than however long the rope is #TheBachelorNZ

— Bachelor Fanzzzz (@LowdownonBachNZ) March 8, 2016
A sport-fueled group date followed, which sparked the Bachelorettes' competitive side.
The gals stripped down for a game of vollyball on the beach, while Fleur battled the waves for a swim with the Bach and got some solo time.
She too received a coveted rose.
This kind of group date would bore me #thebachelornz

— Chanel H-W (@thechanelfactor) March 8, 2016
YAASSS ladies you wear those sarongs don't give them the flesh they want #TheBachelorNZ

— Kristin Hall (@kristinhallNZ) March 8, 2016
Fleur risks her life in the sea and therefore has earned one on one time. omfg #TheBachelorNZ

— Kirsty Pickett (@kirsty_pickett) March 8, 2016
A few people have played ball sports? Yes, yes they have. #TheBachelorNZ

— Echelon Trade (@echelontrade) March 8, 2016
Once again Mauger did not escape the running commentary, this time his accent and a raunchy pool cameo were hot topics.
Close your eyes and you'd swear Jordan is John Key......#TheBachelorNZ

— Dean Robertson (@Deanoss) March 8, 2016
Why hello there..?? #TheBachelorNZ

— Kerie Sutherland? (@LilKerie) March 8, 2016
I can' wait to get to know these "Gewls" ??... #TheBachelorNZ

— Tara Brewer (@TaraBrewer) March 8, 2016
"All I knew was that she was a hairdresser, then she vanished.I love her" #TheBachelorNZ What the hell happens each time u at Just Cuts bro?

— AliceBrine (@AliceBrine) March 8, 2016
Forget Jordan...gimme the number of that waiter #TheBachelorNZ

— iLoveMeBeingMe (@LoveMeBeingMe) March 8, 2016
His voice is not nice #thebachelornz

— T-Bone (@thmslcn) March 8, 2016
There was also an obligatory mention of the moment last year's contestant Poppy Salter passed wind in front of Art Green.
Waiting for someone to fart #TheBachelorNZ

— Catherine Tuivaiti (@Kat_Latu) March 8, 2016
It seems the country has caught Bachelor fever already, with Twitter posts appearing in anticipation of the second airing.
Some were excited to see what would happen next, while others expressed horror at becoming hooked.
Uh oh. Just caught myself casually reading up on #TheBachelorNZ . Get out of my head you bastard!!!

— Simon Diprose (@nzrckstr) March 8, 2016
Can't blame the girls.. Im in love n I'm just watching him on tv every Monday night?? #TheBachelorNZ @benhiggi

— carma wolf (@carmalynae3) March 8, 2016
One tweeter even campaigned to "bring back" pillow-throwing jockey Harmony, who bombed on night one.
Needless to say she was not given a rose after having a few too many drinks and making a scene.
Bring back Harmony #TheBachelorNZ

— Lydia Anderson (@andersonlyd) March 8, 2016


- nzherald.co.nz