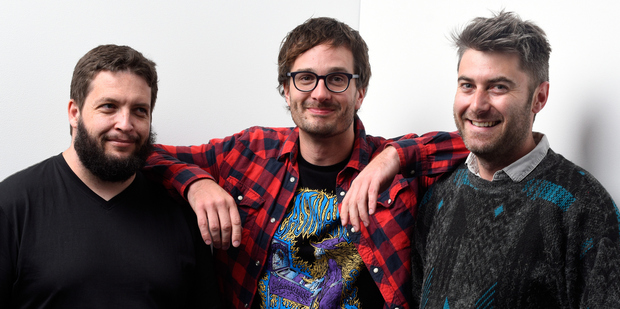 David Farrier's documentary about competitive tickling may be basking in rave reviews, but it's not been all smooth sailing for the film or its directors of late.
Tickled premiered at the prestigious Sundance Film Festival earlier this year and was soon picked up by both HBO and Magnolia for the North American market.
But the run of good fortune for the documentary hit a few bumps over the weekend with former Newsworthy co-host Farrier sharing a couple of dramatic developments on Twitter.
During a screening of Tickled at the True/False Film Festival in Columbia, Missouri on Saturday (NZ time), two viewers were removed from the venue by police.
#TrueFalse screening was stopped for 7 minutes as police ejected 2 PIs.

Appeared to have hidden recording device. pic.twitter.com/Bdr1ZaGM6r

— Tickled Movie (@TickledMovie) 5 March 2016
The Columbia Missourian reports the duo were suspected of recording the film. When staff asked them to leave, they refused, leading to the involvement of local police.
"We thought that they were possibly recording the film, and because of that suspicion and because of problems filmmakers have had in the past doing a similar type thing, we alerted the Columbia police," festival director David Wilson said.
"It's possible they work for one of the people in the film who appears to have a very litigious background.
"This film makes a very strong case that this person has treated other people in very terrible ways."
Farrier tweeted about the disturbance at the screening and thanked those who had gone to see the film. He apologised for the interruption and praised festival staff and police for their efforts.
thanks to all those who came out to see tickled at true/false. sorry for the interruption and huge thanks to the amazing staff & police.

— David Farrier (@davidfarrier) 5 March 2016
And if that wasn't dramatic enough, Farrier then revealed he had been served with legal papers relating to Tickled.
Sharing a photo of the moment the papers were served, Farrier told his followers he initially thought the woman who gave them to him was a fan.
thought this lady was a fan:
"are you david?"
i said "yes" hopefully...
& then she served me.
this is a first. pic.twitter.com/eO4UMWEoXA

— David Farrier (@davidfarrier) 6 March 2016
When asked on Twitter if the papers related to Tickled, Farrier's co-director Dylan Reeve confirmed they did, adding "We officially have no comment."
According to The Columbia Missourian, Farrier later told the audience at another screening of his film that he was facing legal action.
"I'd love to talk more ... but I can't because I'm already in trouble," he said.