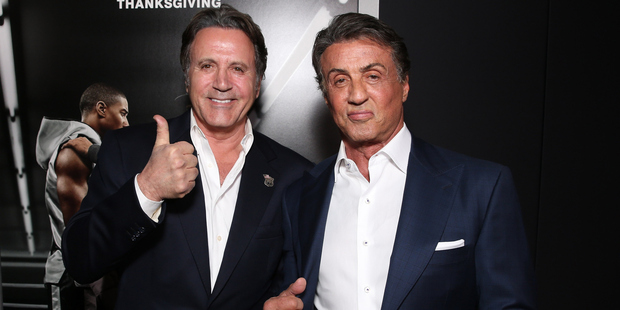 A furious Frank Stallone slammed the Academy in a foul-mouthed tirade Monday for snubbing big brother Sylvester in the best supporting actor category at this year's Oscars.
The Rocky star was widely backed to bag the prize following a Golden Globe award for his critically acclaimed turn as the boxer in Ryan Coogler's spin-off movie Creed.
But the statuette went instead to Britain's Mark Rylance for Bridge of Spies, in one of the biggest shocks of Sunday's gala ceremony at Hollywood's Dolby Theatre.
Livid actor and musician Frank, 65, used Twitter to express his feelings.
The Academy should be ashamed of themselves. It's as clear as the nose on your face that Sly won. Mark who? It's total Hollywood bullshit

— Frank Stallone (@Stallone) February 29, 2016
First of all my brother has created 2 American icons 40 yrs worth and he did a historic job. If I was Mark? I would have been embarrassed

— Frank Stallone (@Stallone) February 29, 2016
Mark Rylance couldn't even comb his hair for Christ sake this is the 3rd time Sly's gotten ripped off Rocky, Copland and Creed. New Voters

— Frank Stallone (@Stallone) February 29, 2016
The academy needs to do a clean sweep of its voters. Am I pissed? Damm right I defend what is right. And I was Slys night 95% mostly agree

— Frank Stallone (@Stallone) February 29, 2016
He later apologised to Rylance for the rant, explaining he would always stick up for family.
I will always defend what right but I was wrong to put down Mark Rylance and I apologize. He is a fine actor but I thought Sly deserved it

— Frank Stallone (@Stallone) February 29, 2016
Stallone himself was in more magnanimous mood, posting a picture of himself on Instagram in his black and blue Oscar tuxedo winking at the camera, fist clenched in defiance.
The 69-year-old was last Oscar-nominated 39 years ago as best lead actor and writer for Rocky.
A host of celebs rushed to ally themselves with Team Sly, including British media personality Piers Morgan, US actress Mia Farrow and Arnold Schwarzenegger, Stallone's co-star in action franchise The Expendables.
.@TheSlyStallone To me, you're the best, no matter what they say. pic.twitter.com/zs4ZLl1nhY

— Arnold (@Schwarzenegger) February 29, 2016
More from Spy:
• Lorde hits exclusive Oscars after-party
• Nicola Robinson denies marriage reports
Rylance, 56, was asked backstage how it felt to have outpunched Stallone but said he didn't take awards too seriously.
"I don't know, people come up and say things about competing as actors and I know it's necessary to make a show out of it," he told reporters."I feel more I am a spokesman than someone better than the (other) nominees."

- AAP