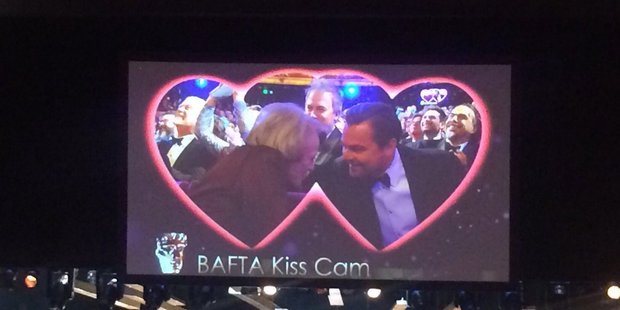 This year's British Academy of Film and Television Arts (Bafta) Awards kicked off with a pash. Quite a few of them actually.
The awards ceremony, which is being held today (Valentine's Day, London time), had its very own Kiss Cam which focused in on brilliantly mismatched star couples as they went in for a snog.
Celebrity pair-ups included Bryan Cranston and Julianne Moore, Eddie Izzard and Rebel Wilson, and Dame Maggie Smith and Leonardo DiCaprio.
Fans loved the award show's stunt, posting their approval on social media site Twitter.
LOL. Han hecho kiss cam en los #BAFTA. Leonardo DiCaprio ?? Maggie Smith. pic.twitter.com/SX4srTcuEp

— Iker Huarte (@ikerhuarte) February 14, 2016
Leo with Maggie Smith on the kiss cam at the BAFTAs pic.twitter.com/TfAU9Ov9Do

— Daily Leo (@dailyleopics) February 14, 2016
Maggie Smith and Leo just smooched on the BAFTA kiss cam. Happy valentines! #bafta2016

— Anna Russell (@anna_russell) February 14, 2016
But Leonardo DiCaprio gives Maggie Smith a smooch on Bafta Kiss Cam. #goodsports #EEBAFTAs

— Diana Lodderhose (@DianaL_Variety) February 14, 2016
And Rebel Wilson and Eddie Izzard had a full on snog/pash situation. #EEBAFTAs #baftakisscam

— Anne Richardson (@AnnieRich75) February 14, 2016
Find out who featured on Stephen Fry's #Bafta 'Kiss Cam' https://t.co/yOLmY3WmHD pic.twitter.com/Bja8effAnY

— Telegraph Pictures (@TelegraphPics) February 14, 2016
That @LeoDiCaprio BAFTA kiss! As @stephenfry said, we will never wash our eyes again! <3 @BAFTA #LeoTheLion pic.twitter.com/7On73MQwMW

— ? Hayley ? (@LilacRaindrops) February 14, 2016
@BAFTA oh my god think I've just fainted with @LeoDiCaprio blowing a kiss down the cam #happygirlie #hottie

— Kate (@marykate_94_) February 16, 2014
However one celebrity couple wasn't going to give the crowd what they wanted. When the Kiss Cam focused in on Steve Jobs star Michael Fassbender and his rumoured girlfriend, Alicia Vikander, who is up for Best Actress and Best Supporting Actress for The Danish Girl, the pair just had a giggle instead of moving in for a kiss.

Loving the #EEBAFTAs Kiss Cam. Michael Fassbender having none of it @LancomeUK pic.twitter.com/86zG9P7eeY

— Debbie O'Donnell (@debbie_odonnell) February 14, 2016
Michael Fassbender refusing to play along with the BAFTA kiss cam - poor Alicia. Leonardo Di Caprio kissed Maggie Smith though. #EEBAFTAs

— Anne Richardson (@AnnieRich75) February 14, 2016
Read more:
• DiCaprio favoured for best-actor prize at Britain's BAFTAs
• Bafta: Kiwi's film Brooklyn is an early winner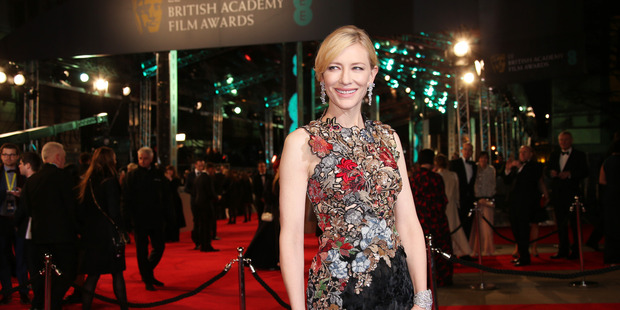 - nzherald.co.nz