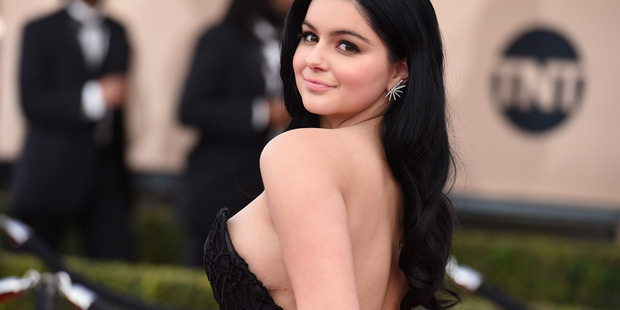 Ariel Winter says she's proud of her scars after the Modern Family star walked the SAG red carpet with scars from her recent breast reduction surgery.
The actress, 18, had surgery last year to reduce her breasts from a 32F to a 34D.
She recently walked the red carpet at the Screen Actors Guild Awards, with onlookers noticing she had prominent scarring under her arms.
Winter took to Twitter to explain the scars and to thank fans for their support.
Guys there is a reason I didn't make an effort to cover up my scars! They are part of me and I'm not ashamed of them at all. :)

— Ariel Winter (@arielwinter1) January 31, 2016
Winter had the operation back in June, telling Glamour magazine her "neck was hurting so bad and I had some problems with my spine".
"I had been discussing my chest with doctors for many years, but when I finally said, 'I'm thinking of doing this', he said, 'Your back is going to thank you so much'."
Winter said her breast-size had also been a struggle when playing teenager Alex Dunphy on Modern Family: "[They'd use] big sweaters, or strapping me down, which is fine, I understand that it doesn't fit the character they have in mind. I understand that. But it was difficult to do that every day."
Thank you all so much for the support, kind words, and happy birthdays! <3

— Ariel Winter (@arielwinter1) January 31, 2016
She told Glamour: "I remember being in my sister's wedding and being so flat and thinking, 'I just wish I would grow boobs!' and then overnight I did. But then they kept growing and growing and growing and it didn't seem like they were going to stop."
- nzherald.co.nz