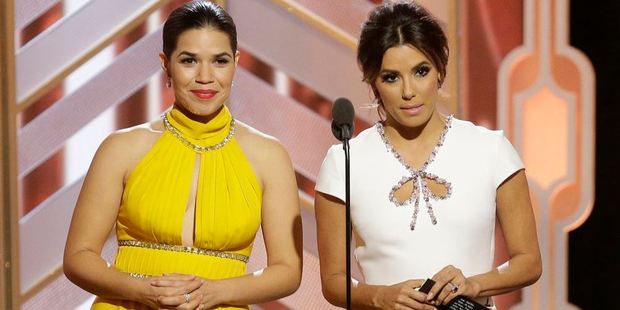 Hollywood star Eva Longoria isn't bying controversy over an MTV Australia tweet that asked for English subtitles for her and fellow Latina actress America Ferrera.
Longoria's representatives told AAP they would not be commenting on the post, which poked fun at Longoria and Ferrera during the Golden Globes live telecast, asking: "Where are the English subtitles? We have no idea what @AmericaFerrera and @EvaLongoria are saying.
The tweet, which has since been deleted, came after Ferrera and Longoria joked about how many people confused Latina celebrities.
It caused a storm of criticism on social media and forced MTV Australia to apologise, conceding its attempt at sarcasm had "missed the mark".
Our Tweet was in reference to @EvaLongoria & @AmericaFerrera's #GoldenGlobes joke.

We sincerely apologise for causing offence.

— MTV AUSTRALIA (@MTVAUSTRALIA) January 11, 2016
We get it was a bad call. We'll leave the humour to @rickygervais

— MTV AUSTRALIA (@MTVAUSTRALIA) January 11, 2016
The tweet prompted hostile reaction on social media, including from Ella Ceron, whose bio describes her as digital entertainment editor at teenvogue.
"I would call you out on this @MTVAUSTRALIA but as I'm Latina, you might not understand what I'm typing here," she tweeted. "P.s. America and Eva were *born in* the US so they don't have foreign accents, people trying to explain away this joke!"
Other social media users also took MTV to task.
Excuse you, @MTVAustralia? I didn't realize you were on Team Trump. #GoldenGlobes pic.twitter.com/VYmMR1lJna

— ¡Gabe! Ortíz (@TUSK81) January 11, 2016
@MTVAUSTRALIA @AmericaFerrera @EvaLongoria Thank you for your pathetic long distance contribution to the debate on immigration in America.

— Jorge Rave (@rave_jorge) January 11, 2016
Gee @MTVAUSTRALIA aren't you the adorable racists.

— BWD (@theonlyadult) January 11, 2016
MTV Australia said it will review its editorial guidelines with staff to prevent a similar situation in future.
"The tweet in question was an attempt at sarcasm that, quite simply, missed the mark," it said in a statement.
"It was never intended to be taken seriously nor to offend anyone as there was obviously no need for subtitles in the segment.
"Out of context it is clear that the comment could be misunderstood, and we sincerely apologise for any offence taken."
MTV's editorial guidelines stipulate it must not post material considered judgemental, prejudicial or intentionally offensive to someone based upon their religion, race or culture.

-AAP