Michael Hurst turned 57 a few weeks ago. But there was no cake.
"Sugar is the enemy - Kevin Smith told me that. So I've told everyone: no cake. I've cut all that stuff out, which isn't easy for me. I do have a sweet tooth and I do like beer, so I'll have one of those ..." (Just so you know, his favoured tipple is Mike's Single American IPA which, at 6.7 per cent, is a serious beer.)
Hurst's big day started with several hours of stage fighting at the Young and Hungry Festival before heading to Auckland's Maidment Theatre, where he frocked up for the matinee and evening performances of The Trees Beneath The Lake. Between, were the small matters of voting and translating the occasional text message from his wife, Jennifer Ward-Lealand. The pair text each other in Maori. One arrives as we talk: "Umm, I think she's saying "soon".
That he's taken to learning te reo so seriously is typical Hurst. He doesn't dabble. If he's in, it's boots and all. Even opting out is done with commitment - he once stiffened a New Year's resolution to quit booze for a year by vaguely threatening himself with "If you can't do this, then what are you worth?"
He mentions he's due a break, which is fair enough given his workload, but his idea of a break is three months of total solitude, "somewhere like Iceland or Finland". But until that can be organised he plans to give himself a few days alone on Waiheke as a birthday present. Not as a holiday, mind you. He's got a script to knock into shape and the works of German philosopher Martin Heidegger to finish getting his head around.
This drive to constantly do something has brought Hurst to an interesting place. If he isn't as flat-out busy as he was in his 20s and 30s - despite racking up five plays so far this year - he has broadened his career to the point where he's able to appear on stage at the same time as the episodes he directed of Prime's Brokenwood Mysteries are screening on television. His dance card is already filled all the way to next July.
"Am I a workaholic? I'm not sure but like they say, 'If you're doing what you love, you never work a day in your life', and my days seem just as full and as exciting as when I started. It's about constantly outputting creatively."
He's dead serious about outputting creatively. It's a bent that goes all the way back to being a 4-year-old in the cloth-capped Lancashire town of St Helens. His pre-school class were pretending to fight off dragons, but while the rest set about slashing and hacking, he paused, considered the size and vulnerabilities of his adversary and began thrusting upwards into the imaginary beast's soft underbelly. His subsequent demonstration to the others became the actor's first ever live performance and his first foray into the fantasy world of swords and sandals, a repeating theme that has run parallel to his devotion to all things Shakespearian.
It could have ended there, with no Hercules, no Hamlet, and certainly no three-month hideaways in Iceland - because by 8, young Hurst was running with a gang and known to local police. His parents intervened by announcing an impending move, not simply across town, but all the way to New Zealand, a country he knew only from a few photographs and the dancing cows in the butter ad on the telly. Soon, he was waving his aunt and uncle goodbye as his family caught a train to London.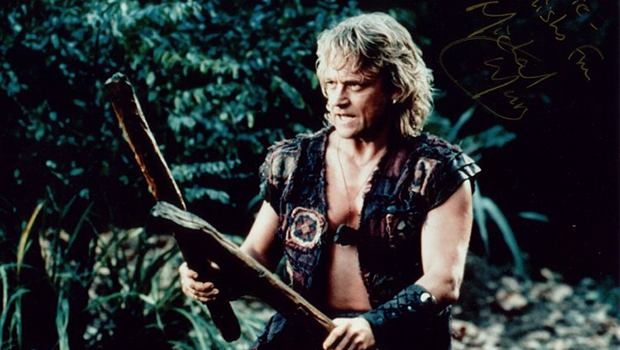 Hurst as Iolaus in Hercules. Photo / File
"I remember realising then that life was really changing. This was big."
That first big train trip was followed by his first flight, a three-day slog in a DC8.
"It was amazing. I loved it. That was my first big anything really. It felt gigantic."
They finally set down in Christchurch, in 1966, where the sun, grass, beaches and their little wooden house on its very own section seemed very alien. For a boy whose last school had jagged glass concreted into the top of its brick walls, the expansive fields of Elmwood Normal were heaven. It even had a swimming pool and he'd never swum a stroke in his life.
"On my first day there I was singing at the top of my voice - holy moly. I was a bit lonely and homesick for a while, and life at home was tough, but we had a beach just round the corner."
Unfortunately, the seaside couldn't ease the strain on his parents' marriage, which was crumbling under the pressure of a new start. His dad worked as a glasscutter, but to have any chance of saving, his mother had to work as well. "And that was a pretty big deal back then," says Hurst.
Still, they eventually managed to build their own home in Harewood for $12,000.
School was Hurst's escape and he lucked in during his fourth form year at Papanui High School when the right students met the right teacher.
"That was a remarkable class," says children's books author and now retired teacher Alan Bunn, "probably the most talented I ever taught."
Aside from Hurst, it also featured choreographer, dancer, actor and educator Sandra Rasmussen; Stuart Alderton, who went on to become chief executive of Christchurch's Court Theatre; and musician, teacher and Radio New Zealand Concert presenter Carey McDonald.
Hurst, says Bunn, stood out from the day he arrived. "He was a real charmer and he got completely involved in everything he did." One of the youngster's first achievements was getting his class to lip-sync the Jesus Christ Superstar soundtrack in front of the entire school, but it was their production of West Side Story that everyone remembers. They even got dance icon Maggie Burke, who had returned from four years of teaching in London, on board as choreographer.
"We were just drama geeks, really," says Sandra Rasmussen, now with the Auckland City School of Arts. "It was like a 70s Glee and we did everything we could to persuade our teachers to let us do as much as possible. We were lucky that they shared the same passion, but we were all a bit crazy and stupid, so I'd like to think we'd have found a way to do those things anyway. It felt really freeing for us. We were just so obsessed. We were probably total pains in the butt, really."
But Hurst's home life was still in turmoil and the stress almost pushed him to drop out of school. His future felt uncertain. His parents wanted him to go to university and his career adviser suggested teaching, so after considering the awards he'd won in drama, debating and public speaking and his top marks in art related subjects, he did both.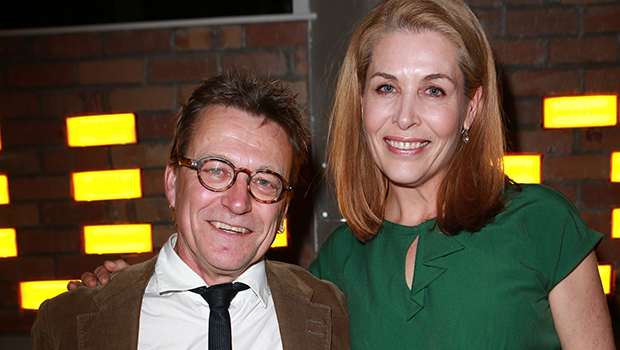 Hurst and Jennifer Ward-Lealand met on the set of Kafka's The Trial and married five years later. Photo / NZME.
He was sitting his first year exams when he followed his friends to Christchurch's Court Theatre, joining a troupe that performed in schools. He was quickly offered a two-year apprenticeship, making $75 a week.
If it was a real job, it was far from what his parents wanted.
"They'd split up by then. I didn't care what they thought."
And why would he? He was being paid to do what he loved, he was engaged to Rasmussen and he was flatting with a pair of burly brothers who obsessed over Dr Who, religious philosophy and Monty Python, and loved nothing more than blaring out Handel's Sarabande (the theme to Stanley Kubrik's 1975 period drama film, Barry Lyndon) or Deep Purple as loudly as possible. This was the life.
To top it off, he got an invitation from the grandee of New Zealand theatre, Raymond Hawthorne, to join Theatre Corporate in Auckland.
Though it was flattering to be wanted, he felt he had to see out his two-year contract first.
His acting fervour only deepened when he finally got to Auckland. It was 1979 and he was living in an inner-city basement flat where he buried himself in the works of German writer Bertolt Brecht, to the extent that he began cutting his own hair and wearing tatty old coats.
"Oh, I was young and absolutely committed to what I was doing. It really did feel like we were changing the world."
His commitment to roles was such that he'd compile thick files on each character's life and times. There was enough research behind his Mozart in the 1982 play Amadeus to qualify him as a candidate for Mastermind.
These were highly charged times, with an obsession-enabling routine. His team would gather each morning, squeeze into a stationwagon, perform at two schools, then return for rehearsals before heading off to whatever play they were in. Life settled into a blur of lines and audiences until the afternoon in 1983 when he was rehearsing Kafka's The Trial and found himself face-to-face with Jennifer Ward-Lealand.
"That was a moment of absolute zing, but we were both in relationships so my initial response was 'You can't go there'." Instead, he avoided her until she cornered him and suggested they talk. He said no, she started talking anyway.
It wasn't an easy hook-up, a fair amount of therapy was needed before the country's pre-eminent, theatrical power couple was formed. They eventually married in 1988 and now have two boys, Jack and Cameron.
"To have survived in this game," says Hawthorne, a long-time collaborator for both, "and to have been phenomenally successful while also raising two sons, they're a bloody rarity, especially in our business."
The secret, says Hurst, is scheduling and ensuring you celebrate your partner's opportunities thoroughly before figuring out how they can be accommodated.
While his love life was blooming, so was Hurst's career. He was getting more television time and at one point appeared set for a role in Gloss.
"I hadn't signed on the dotted line, but I let myself think I had six months' work ahead of me."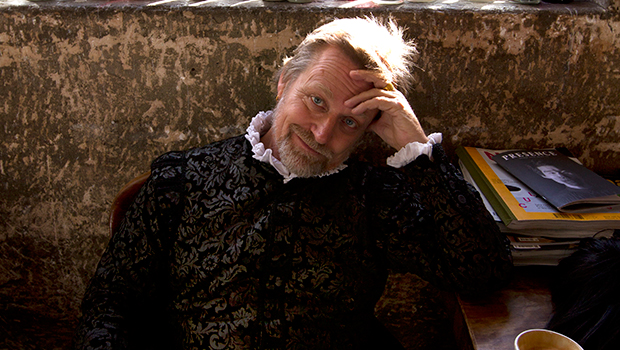 Hurst in his 2012 theatre production, Bard Day's Night. Photo / Brett Phibbs
Simon Prast got the part instead, leaving Hurst high, dry and skint.
"That's the only time I've had that anxiety, 'What do I do now?'; I decided the only thing to do was the thing I wanted to do most, theatre. Shakespearean theatre.
"I figure if you're doing what you want, then you're in a good place. I still think that's good advice."
So, he was a gigging actor and sometime director when, in 1993, he was invited to audition for an American film, Hercules. The timing was good as he'd been throwing himself into bodybuilding to the extent he was employing split double training systems and was totally buff. Singleted and waving a double grip broadsword, he unleashed his hoariest John Wayne accent on lines like, "I don't know, it must have been some kind of monster" and no one was more surprised than him when he was called back and - despite his best efforts to put them off - a panel of six loud American producers offered him the role of Kevin Sorbo's Hercules sidekick, Iolaus.
The pair rattled off four movies, but Hurst baulked at the fifth - he was scheduled to play and direct Hamlet. Proper theatre, dammit. Not to be put off, Universal hired his theatre and all the actors, moved everything forward two weeks and told Hurst, "See? Now you're available."
He'd put the role behind him and was holidaying in Turkey in 1994 when his phone rang at 3am. It was his agent, Robert Bruce: "They're making Hercules for television. Are you in?" He mumbled yes and went back to sleep as six years of madness kicked off.
The first series hadn't even finished when he found himself sitting in first class alongside Lucy Lawless en route to Los Angeles. He was being signed on "forever" and she was being offered her own series, Xena: Warrior Princess.
"Everything kept on getting bigger and bigger so we were sitting there rubbing our hands together and had this clear moment of 'Oh my God, look at us'. It was limousines, flowers in our rooms, the lot. Brilliant."
The pay wasn't bad either, and although he says they aren't exactly living on the pig's back, it did provide the family with a Grey Lynn home and a bach on Waiheke Island. It also gave them the opportunity to have children - a possibility Hurst had sworn off after witnessing his parents' marriage.
"Well, I still didn't have them until I was 40, but they are the best thing to have ever happened to me, without reservation."
Now 18 and 15, Jack is interested in cinema-tography while Cameron is getting into 3D animation (he wanted a green screen for his 9th birthday).
Having directed a few Hercules episodes, Hurst was then offered the helm for Sheena, Queen of the Jungle, but he politely declined and went about making his first movie, Jubilee (with Cliff Curtis), a talent show called Showstoppers, and a stack of theatre and television.
Then, in 2008, he put the sandals back on for The Legend of the Seeker and the adult-oriented Spartacus, where he kicked off a minor taste debate by filming his youngest son being slow-motion sliced "from nave to the chaps" during a particularly gruesome massacre.
It's a genre in which involvement doesn't end with the final show. The fans, Xena fans in particular, still expect to see him on the convention circuit. He's made some great friends and had a fair few strange encounters. One woman approached him to thank Iolaus for saving her marriage and began following him around America and England before finally showing up front row centre in Auckland to watch him in Hamlet. She was there every night for a week, then he went back to his dressing room to find flowers and a card saying, "Thanks and you'll never see me again." And he hasn't.
As for where to now, he's not entirely sure apart from wanting a break. The door to working in the US remains open, but family life probably rules that out for now and, besides, he's hardly short of offers locally. "It's not that I'm lowering my sights. I guess it's that I'm not 20 anymore. I'm not going to crack the young stud roles and I've probably peaked in terms of public visibility. So life is about what's in front of me and about making sure the show keeps on moving. The pressure never drops, it doesn't matter how much you're paid or what you're doing, the output always has to be same: the best you possibly can."
Happily, he's also started patching things up with his father.
"The thing is, they should never have got married. They came here, young and with children, and started from the bottom. There was no counselling to help, no nothing. It was really tough and Dad wanted to be free, to have a life and be the teenager he never got to be. As a man, I can identify with that. Now he's 77 and he's the oldest teenager I know."
Clearly it takes one to know one.