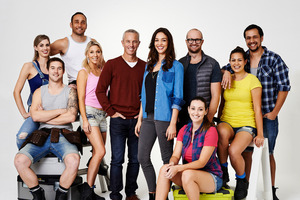 The ratings war between two reality series has intensified, and both channels are claiming victory.
TV3's The Block premiered on Tuesday, going up against the second episode of TV One's My Kitchen Rules New Zealand.
Overall, 349,500 people tuned in to TVNZ's MKR, ahead of TV3's The Block, watched by 340,800.
But in the ratings battle for the target audience aged 25-54, The Block, hosted by Mark Richardson and Shannon Ryan, came out on top, with 201,900 people tuning into the show, ahead of MKR's 136,500 viewers.
"It's fantastic to see The Block so convincingly win one of the most competitive timeslots on TV," said MediaWorks TV chief executive Paul Maher.
TVNZ claimed a victory too after MKR's first and second episodes received the highest overall ratings in their timeslots.
"We're delighted with how Kiwi audiences are responding to the show so early in the piece."
Media commentator Martin Gillman said the ratings for the channels' target audience were much more important from a commercial point of view, giving the victory to TV3.
The result would have produced a "big sigh of relief" from the channel, which had struggled in the last three months.
Mr Gillman said TVNZ's placing of MKR in direct competition with The Block was deliberate and aggressive but had not necessarily worked.
Read more: Colin Hogg: Had my fill of sweet and sour fare