Fashion observers love Julia Roberts' beaded mini dress and Kerry Washington's bright orange fitted Prada.
Lena Dunham showed up for the Emmys in an awkward pink confection and Kerry Washington went for a bright orange dress with dark sparkle peeking out from underneath, but it was the reds and blues that dominated the carpet yesterday. And neutrals, too.
On Team Red were best actress in a comedy winner Julia Louis-Dreyfus, who looked a bit pinched in a tight Carolina Herrera, and Christina Hendricks in a gaudy, one-shoulder Marchesa with yards of draping fabric, loud floral embroidery at the waist and a plunging neckline.
Julia Roberts, at 46, had fashion observers near speechless as she showed off her legs in a bubbly beaded mini in deep blue. Keke Palmer, of The Trip to Bountiful, wowed in a blue cobalt trumpet-shaped gown from Rubin Singer. Layers of fabric skimmed the gown, and a strapless bodice was cut in a deep V.
Baby bumps were also represented. Hayden Panettiere lovingly stroked her belly in a metallic fitted gown. Amanda Peet, pregnant with her third child, was in an unfortunate, empire-waisted floral.
Washington bucked the colour trend in fitted orange Prada with a high slit and beaded front pleats.
"I saw it hanging there and I knew it was a contender," she said. "I threw it on during a lunch break when I was shooting Scandal and fell in love."
Sofia Vergara went for a classic look in a white Roberto Cavalli gown with a bodice that showed less of her cleavage than usual.
Photos: Emmys: 2014 award ceremony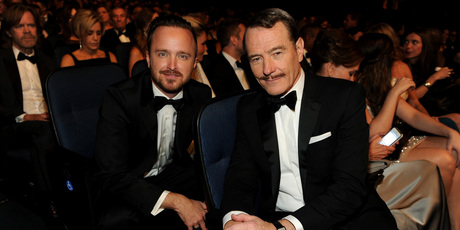 Allison Janney, who won best supporting actress in a comedy for her Mom role, looked anything but: Her velvet magenta gown seriously hugged her in all the right places.
"I love this dress because it makes me look like I have the tiniest waist. I put this on and everyone was like, 'Done!"'
Taylor Schilling and her Orange is the New Black crew walked early - Schilling dressed in a lighter-than-air, pale halter gown with subtle sparkle and fellow cast member Uzo Aduba in strapless red.
"I wanted something beautiful," said Aduba of her Christian Siriano.
For the men, Kit Harington of Game of Thrones wore a serious scowl like his character and sported a top-knot.
For our take on the best and worst dressed at the Emmys go here.
- AP