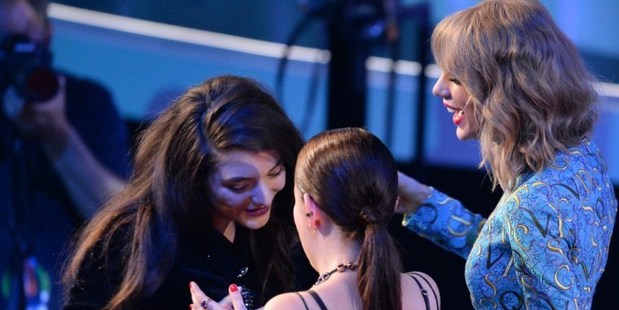 An overwhelmed Lorde apologised for swearing after picking up the MTV Video Music Award for best rock video for her hit single Royals today.
The 17-year-old hugged her friend Taylor Swift and sister Jerry, who was sitting beside her, before taking the stage to accept the award.
Dressed in a velvet Chanel jumpsuit the singer thanked her school friends who appeared in the video and the director Joel Kefali.
"This is really crazy and I'm super grateful," she said.
She appeared flustered on the stage, saying "Is there, like, a specific place I'm supposed to looking?" and let slip "s**t", for which she apologised.
She was also nominated for best female video, which she lost out to Katy Perry for her single Dark Horse.
Lorde appeared on stage earlier in the show to introduce Swift, one of her best friends in the industry.
Lorde said although on the surface the pair may seem mis-matched, they were both dedicated to their art.
"I'm grateful she exists," she said.
Lorde attended the show with her mother Sonja Yelich and her sister Jerry.
Ms Yelich posted on Instagram photos from the awards ceremony, and of the trio before the event.
She posted a photo of Lorde taken by Jerry with the caption "my fave pic ever".
It appeared that Lorde opted to skip the red carpet entrance to the awards ceremony held in Los Angeles.
She has previously picked up two Grammys and a Brit award.
After the awards, Lorde tweeted: "oh jee whizz YOU WON ME BEST ROCK VIDEO".
She followed up with an apology for her language slip-up on stage. "ps. i'm sorry for swearing i was very overwhelmed!!!!!!!".
oh jee whizz YOU WON ME BEST ROCK VIDEO

— Lorde (@lordemusic) August 25, 2014
ps. i'm sorry for swearing i was very overwhelmed !!!!!!!

— Lorde (@lordemusic) August 25, 2014
So basically I'm LOSING MY LITTLE MIND because tonight I got to see my friends @edsheeran and @lordemusic win their first #VMAs.

— Taylor Swift (@taylorswift13) August 25, 2014
- APNZ