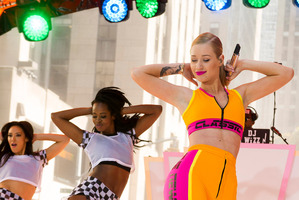 She's so fancy, but not sure-footed.
Australian singer Iggy Azalea left fans stunned when she tumbled off stage at a MTV benefit concert in the weekend.
The Fancy rapper posted a video of the fall on her Instagram account, writing: "Sorry but it would be a crime not to share this with you all, I know I laughed. #StillFinishedtheSongTho #KeptOnRapping #TheShowMustGoOn".
Azalea will face off against Lorde for the Best Female Video at today's MTV Music Video Awards.
You can follow all the action here on nzherald.co.nz, where we'll bring you the latest winners updates, red carpet galleries and, of course, any headline-grabbing performances.
- AP