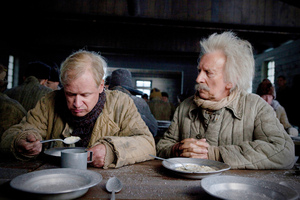 If you belong to a book club it's likely you've already come across the popular Swedish novel by Jonas Jonasson, The 100-Year-Old Man Who Climbed Out The Window And Disappeared.
It's the charming, whimsical and improbable tale of a centenarian who is obsessed by explosives and slips out the window of his retirement home in search of adventure. As he flees, our hapless anti-hero Allan Karlsson manages to get on a bus with a motorcycle gang's suitcase filled with drug money, setting off events involving murder, an elephant and being hunted by a Balinese drug lord.
Watch the trailer for The 100-Year-Old Man Who Climbed Out The Window And Disappeared here:
This is just one of the many extraordinary misadventures of Allan, played by Swedish comic Robert Gustafsson.
The story flashes back through Allan's life, from his tragic childhood to his unlikely relationships with some of the biggest historical figures of the 20th century. Indeed, Allan is the Scandinavian Forrest Gump. A dry, detached character; he's smart enough to help the Americans develop the nuclear bomb, but indifferent to the consequences. As long as Allan gets to blow things up he doesn't care.
The film is an offbeat charmer and the Scandinavian black humour translates just fine for Kiwis. If you're looking for a light-hearted, amusing take on the idiotic behaviour of mankind, this will suit you well.
Cast:
Robert Gustafsson, Iwar Wiklander and David Wiberg
Director:
Felix Herngren
Running time:
114 mins
Rating:
M (Violence and offensive language)
Verdict:
A rambling, but amusing black comedy
- TimeOut