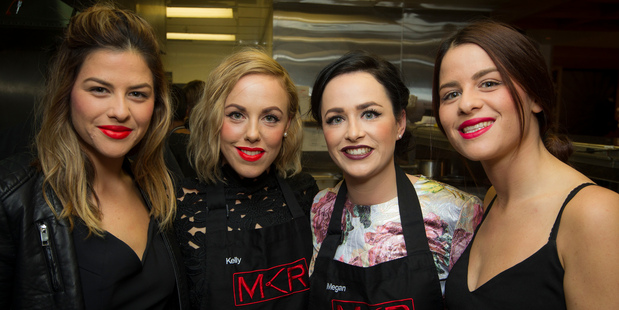 Stay cool, stay friends and stay happy — the My Kitchen Rules Australia teams have given recipes for success to fledgling New Zealand couples preparing for their time in the competition.
The popular TV show celebrated the launch of its New Zealand segment in style by throwing a lavish party where the Aussies and Kiwis could meet.
Twins Vikki and Helena, 24, said they were "extremely happy" with their efforts in the competition — but it is not just about winning.
"It's all about having fun. We walked into the competition and we wanted to win but ultimately it was about enjoying the roller coaster."
Hawke's Bay duo Kelly and Megan, above centre, had some advice to give back to the Australian teams. "Be humble and be kind."
The New Zealand teams were put to the test at the launch, having to prepare food for the night trussed in gowns and heels.
Mother and daughter team Cathy and Anna advised the Kiwis to always keep their cool. "Keep things in perspective. Sure, it's a competition, there is money on the line, but you walk in with your partner and you walk out with them — so stay friends, stay happy.
"A lot of contestants in the Australian competition struggled with that ... I think we are lucky because we are family."
Youngsters Thalia and Bianca, who were eliminated after their instant kitchen disaster, said the New Zealand teams should just enjoy the ride. "Although you may be in it to win it , remember how fortunate you are to be there."
Christchurch pair Jessie and Ricki said their game plan was to "fake it until we make it".
"Our family was like, 'Can you even cook?' says Jessie. "This is just another chapter in our lives and it will either make or break us."

• My Kitchen Rules begins Sunday, August 24, TV One.