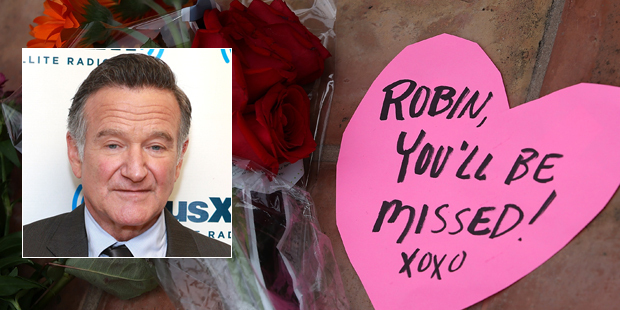 The producer of this month's Emmy Awards says Robin Williams will receive a "meaningful" remembrance during the ceremony.
Producer Don Mischer said plans for the ceremony's traditional "in memoriam" sequence are under discussion. He said in a statement Thursday that Emmy organizers are still coming to terms with Williams' death, but they intend to give him the tribute he deserves.
Read more:
• Robin Williams suffered from Parkinson's Disease - wife
• Twenty-six things you didn't know about Robin Williams
Williams was found dead Monday in his home in Northern California's Marin County. Officials say he committed suicide.
Williams' wife, Susan Schneider, said Thursday that Williams was in the early stages of Parkinson's disease when he died.
He had not made the diagnosis public.
Williams was also struggling with depression and anxiety.
The Emmy Awards will be broadcast Aug. 25 on NBC.
The Hollywood Foreign Press Association, which shared its Golden Globe spoils with 50 charitable organizations at a starry dinner Thursday night, altered its planned program to include a tribute to Williams, recognizing his five Golden Globe wins and decades of philanthropy.
"Besides an incredible career as a comedian, as an actor, he did so much when it comes to charities," press association President Theo Kingma said. "He certainly deserves the moment."
Where to get help:

• Lifeline: 0800 543 354 (available 24/7)
• Suicide Crisis Helpline: 0508 828 865 (0508 TAUTOKO) (available 24/7)
• Youth services: (06) 3555 906
• Youthline: 0800 376 633
• Kidsline: 0800 543 754 (4pm to 6pm weekdays)
• Whatsup: 0800 942 8787 (1pm to 11pm)
• The Word
• Depression helpline: 0800 111 757 (available 24/7)
• Rainbow Youth: (09) 376 4155
• CASPER Suicide Prevention
If it is an emergency and you feel like you or someone else is at risk, call 111.
- AP