Robin Williams, a brilliant shapeshifter who could channel his frenetic energy into delightful comic characters like Mrs Doubtfire or harness it into richly nuanced work such as his Oscar-winning turn in Good Will Hunting, died yesterday in an apparent suicide. He was 63.
From his breakthrough in the late 1970s as the alien in the hit TV comedy Mork & Mindy, through to his standup comedy act and such films as Good Morning, Vietnam, Williams ranted and shouted as if just sprung from solitary confinement.
Loud, fast and manic, he parodied everyone from John Wayne to Keith Richards, impersonating a Russian immigrant as easily as a pack of Nazi attack dogs.
He was a riot in drag in Mrs Doubtfire, and as a cartoon genie in Aladdin. He won his Academy Award in a rare dramatic role, as an empathetic therapist in the 1997 film Good Will Hunting.
During a 1989 chat with AP, he could barely stay seated, or even mention the film he was supposed to promote, as he free-associated about comedy and the cosmos.
"There's an Ice Age coming," he said. "But the good news is there'll be daiquiris for everyone and the Ice Capades will be everywhere. The lobster will keep for at least 100 years, that's the good news. The Swanson dinners will last a whole millennium. The bad news is the house will basically be in Arkansas."
Following Williams on stage, Billy Crystal once observed, was like trying to top the Civil War. In a 1993 interview with AP, Williams recalled an appearance early in his career on The Tonight Show Starring Johnny Carson. Bob Hope was also there.
"It was interesting," Williams said. "He was supposed to go on before me and I was supposed to follow him, and I had to go on before him because he was late. I don't think that made him happy. I don't think he was angry, but I don't think he was pleased.
"I had been on the road and I came out, you know, gassed, and I killed and had a great time. Hope comes out and Johnny leans over and says, 'Robin Williams, isn't he funny?' Hope says, 'Yeah, he's wild. But you know, Johnny, it's great to be back here with you'."
In 1992, Carson chose Williams and Bette Midler as his final guests.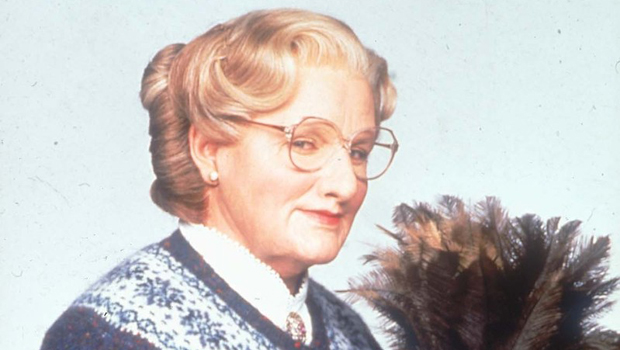 Robin Williams pictured as Mrs Doubtfire.
Like so many funnymen, Williams had ambitions to play serious roles. He played for tears in Awakenings, Dead Poets Society and What Dreams May Come, which led New York Times critic Stephen Holden to write that he dreaded seeing the actor's "Humpty Dumpty grin and crinkly moist eyes".
But other critics approved, and Williams won three Golden Globes, for Good Morning, Vietnam, Mrs Doubtfire and The Fisher King.
His other film credits included Woody Allen's Deconstructing Harry, Paul Mazursky's Moscow on the Hudson, Robert Altman's Popeye (a box office bomb), and Steven Spielberg's Hook. On stage, Williams joined comedian Steve Martin in a 1988 Broadway revival of Waiting for Godot.
"Robin was a lightning storm of comic genius and our laughter was the thunder that sustained him. He was a pal and I can't believe he's gone," Spielberg said.
More recently, Williams appeared in the Night at the Museum movies, playing President Theodore Roosevelt in the comedies in which Ben Stiller's security guard has to contend with wax figures that come alive and wreak havoc after a museum closes.
In April, Fox 2000 said it was developing a sequel to Mrs Doubtfire and Williams was in talks to join the production.
Williams also made a short-lived return to TV last year in CBS' The Crazy Ones, a comedy about a father-daughter ad agency team which was cancelled after one season.
"I dread the word 'art'," Williams said in 1989. "That's what we used to do every night before we'd go on with Waiting for Godot. We'd go, 'No art. Art dies tonight.' We'd try to give it a life, instead of making Godot so serious. It's cosmic vaudeville staged by the Marquis de Sade."
His personal life was often short on laughter. He had acknowledged drug and alcohol problems in the 1970s and 80s and was among the last to see John Belushi before the Saturday Night Live star died of a drug overdose in 1982.
Photos: Life and times of actor Robin Williams
Image 1 of 30
NEW YORK, NY - SEPTEMBER 25: Robin Williams arrives to "Late Show with David Letterman" at Ed Sullivan Theater on September 25, 2013 in New York City
Image 2 of 30
FILE - In this July 29, 2013 file photo, actor Robin Williams participates in the "The Crazy Ones" panel at the 2013 CBS Summer TCA Press Tour at the
Image 3 of 30
This film image released by The Weinstein Company shows Robin Williams as Dwight Eisenhower, left, and Forest Whitaker as Cecil Gaines in a scene from
Image 4 of 30
UNITED STATES - SEPTEMBER 14: MORK & MINDY - gallery - Season One - 9/14/78, The character of Mork, an alien from the planet of Ork, became so popula
Image 5 of 30
Robin Williams during Robin Williams Footprint Ceremony at Mann's Chinese Theatre in Hollywood, California, United States. (Photo by Ron Galella, Ltd.
Image 6 of 30
Robin Williams during The 68th Annual Academy Awards at Dorothy Chandler Pavilion in Los Angeles, California, United States. (Photo by Ron Galella, Lt
Image 7 of 30
Robin Williams during 36th Annual Golden Globe Awards at Beverly Hilton Hotel in Beverly Hills, California, United States. (Photo by Ron Galella/WireI
Image 8 of 30
FILE - This Nov. 7, 2007 file photo shows comedian Robin Williams performing at the NY Comedy Festival Event "Stand Up for Heroes: A Benefit for the B
Image 9 of 30
FILE - This June 15, 2007 file photo shows actor and comedian Robin Williams posing to promote his film, "License To Wed" in Santa Monica, Calif. Wil
Image 10 of 30
NEW YORK - MARCH 22: (ITALY OUT, NY DAILY NEWS OUT, NY NEWSDAY OUT) Robin Williams (R) and Terrence Howard look on during filming of their new movi
Image 11 of 30
Robin Williams slimes the crowd during Nickelodeon's 19th Annual Kids' Choice Awards - Show at Pauley Pavillion in Westwood, California, United States
Image 12 of 30
Robin Williams and Billy Crystal during Los Angeles Premiere of Columbia Pictures' "RV" at Mann Village Theatre in Westwood, California, United States
Image 13 of 30
Robin Williams and Zelda Williams during Nickelodeon's 19th Annual Kids' Choice Awards - Arrivals at Pauley Pavilion in Westwood, CA, United States. (
Image 14 of 30
LONDON, ENGLAND - NOVEMBER 20: Robin Williams attends the pre-premiere party for Happy Feet Two at Grand Connaught Rooms on November 20, 2011 in Lond
Image 15 of 30
BEVERLY HILLS, CA - NOVEMBER 30: Presenter Robin Williams speaks onstage at BAFTA Los Angeles 2011 Britannia Awards at The Beverly Hilton hotel on No
Image 16 of 30
NEW YORK, NY - APRIL 28: Robin Williams accepts award on stage at The Comedy Awards 2012 at Hammerstein Ballroom on April 28, 2012 in New York City.
Image 17 of 30
LOS ANGELES - APRIL 5: "Pilot" -- Academy Award winner Robin Williams returns to series television in THE CRAZY ONES, CBS' new single camera workplace
Image 18 of 30
LOS ANGELES, CA - SEPTEMBER 22: Robin Williams from The Crazy Ones at the 65th Primetime Emmy Awards,  which will be broadcast live across the count
Image 19 of 30
2212NZHWILLIAMS03-Actor Robin Williams arrived in New Zealand today on his chartered jet at Auckland airport and received a traditional Maori welcome.
Image 20 of 30
2412NZHWILLIAMS16-Actor Robin Williams arrived in New Zealand with his family on the 22nd of December on his chartered jet at Auckland airport and rec
Image 21 of 30
2412NZHWILLIAMS04- Robin Williams arrived in New Zealand on the 22nd of December on his chartered jet at Auckland airport and received a traditional M
Image 22 of 30
2412NZHWILLIAMS05-Actor Robin Williams arrived in New Zealand on the 22nd of December on his chartered jet at Auckland airport. REPORTER: KEITH PERRY
Image 23 of 30
2412NZHWILLIAMS18. ACTOR ROBIN WILLIAMS ON ARRIVAL AT AUCKLAND AIRPORT 22/12/99, HERE HE RECEIVES A GIFT (T-SHIRT) FROM HERENA WOOD, ONE OF THE MAORI
Image 24 of 30
Robin Williams performs at the Vector arena, Auckland. 20 November 2010 Herald on Sunday Photograph by Michael Craig
Image 25 of 30
Al Pacino and Robin Williams in a scene from the film Insomnia. Supplied 21 August 2002 to New Zealand Herald by Buena Vista International. NZH 24aug
Image 26 of 30
"RV" starring Robin Williams, Cheryl Hines, Jeff Daniels and Josh Hutcherson Supplied 30 June 2006 to New Zealand Herald by Sony for TimeOut
Image 27 of 30
tv3wk41 Funny man Robin Williams stars in the medical comedy with heart - PATCH ADAMS, TV 3, Sunday, October 7 at 8.30pm and then GOOD MORNING VIETNAM
Image 28 of 30
1209SPLDOUBTFIRE Robin Williams stars in movie Mrs Doubtfire Pic supplied 14sep01 - FLAGGING IT: Mrs Doubtfire replaces alien attackers for US viewers
Image 29 of 30
TV3 WEEK 4 2002 Comic genius Robin Williams stars in Festival Of Fun: Flubber, TV3, Wednesday, January 23 at 7.30pm. Supplied pic: Television press ki
Image 30 of 30
Academy Award-winner Robin Williams stars as an obsessive photo developer who develops a fascination with his favourite customers, in the Saturday Blo
Williams announced in 2006 he was drinking again but rebounded well enough to joke about it. "I went to rehab in wine country," he said, "to keep my options open."
Born in Chicago in 1951, Williams would remember himself as a shy kid who got some early laughs from his mother - by mimicking his grandmother. He opened up more in high school when he joined the drama club, and he was accepted into the Juilliard Academy, where he had several classes in which he and Christopher Reeve were the only students and John Houseman was the teacher.
Encouraged by Houseman to pursue comedy, Williams identified with the wildest and angriest of performers: Jonathan Winters, Lenny Bruce, Richard Pryor, George Carlin. Their acts were not warm and lovable. They were just being themselves.
"You look at the world and see how scary it can be sometimes and still try to deal with the fear," he said in 1989.
"Comedy can deal with the fear and still not paralyse you or tell you that it's going away. You say, OK, you got certain choices here, you can laugh at them and then once you've laughed at them and you have expunged the demon, now you can deal with them. That's what I do when I do my act."
Williams could handle a script, when he felt like it, and also think on his feet. During a media tour for Awakenings, when director Penny Marshall mistakenly described the film as being set in a "menstrual hospital", instead of "mental hospital", Williams joked, "It's a period piece."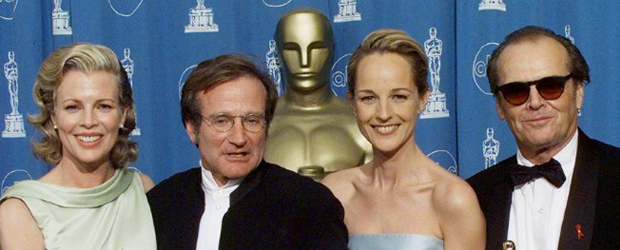 Robin Williams (2nd L), with at the 70th Annual Academy Awards in 1998. Photo / AP
Winner of a Grammy in 2003 for best spoken comedy album, Robin Williams - Live 2002, he once likened his act to the daily jogs he took across the Golden Gate Bridge. There were times he would look over the edge, one side of him pulling back in fear, the other insisting he could fly.
"You have an internal critic, an internal drive that says, 'OK, you can do more.' Maybe that's what keeps you going," Williams said.
"Maybe that's a demon. Some people say, 'It's a muse.' No, it's not a muse! It's a demon! DO IT YOU BASTARD!! HAHAHAHAHAHAHA!!! THE LITTLE DEMON!!"
Williams is survived by his wife Susan Schneider, and three children: daughter Zelda, 25; and sons Zachary, 31, and Cody, 19.
Fans warmed to the man of many parts
He played an alien, a therapist, a teacher and even a Scottish nanny but one thing characterised Robin Williams' varied roles: his warmth.
Nominated for a Best Actor Academy Award three times, he finally won an Oscar for Best Supporting Actor for his performance as therapist Dr Sean Maguire in the 1997 movie Good Will Hunting.
A well-known stand-up comedian, Williams' screen career began on the long-running situation-comedy Happy Days where he was cast as the alien Mork.

Robin Williams performing at a Stand Up For Heroes benefit concert. Photo / AP
Wowing cast and crew with his quirky sense of humour - he ad-libbed many of his lines - Mork soon got his own show on the beloved Mork and Mindy, which ran between 1978 and 1982 and at its peak saw audiences of up to 60 million.
Williams continued to ply his trade on the stand-up circuit, and began filming specials for television featuring his act.
His first film, Can I Do It 'Til I Need Glasses? a sex comedy, was perhaps best forgotten, but it was soon followed by a succession of movies in which he usually played comic roles tinged with sadness.
As well as his Academy nominations, he went on to receive the Cecil DeMille Golden Globe Award in 2005, and another five Golden Globes, two Emmys, five Comedy Awards and two Screen Actors Guild Awards.
Read more:
• Robin Williams found dead, aged 63
• Joanna Hunkin: A seat at the Robin Williams' show
• Tributes flow on Twitter for Robin Williams
• Robin Williams: He had a deep love for New Zealand
His first Oscar nomination came for Good Morning Vietnam, in which he played a loud-mouthed but lovable DJ, a character his fans would perhaps go on to most identify him with: irreverent, energetic, outspoken, empathetic, crazy and confident.
Sadly, the truth behind the character was rather more complex.
Ten of his best roles:
1 The World According to Garp (1982)
In his first major role, Williams played Garp, the affable son of feminist icon Jenny (Glenn Close) in an adaptation of the popular John Irving novel. Showing he could do sweet and serious as well as funny, the film was well-received and he caught the eye of casting directors and directors.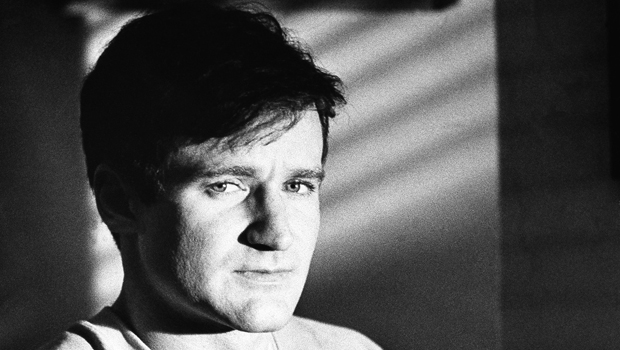 Robin Williams in the film 'The World According to Garp'. Photo / AP
2 Good Morning, Vietnam (1987)
Williams' first big hit, he played Airman Second Class Adrian Cronauer who finds himself working as an Air Force DJ in Saigon at the height of the Vietnam War, and soon ends up on the wrong side of his superiors thanks to his irreverent humour. His hysterical, largely ad-libbed on-air tirades won Williams public admiration and affection, and his greeting of "good mooooooorning Vietnam" became an instant catchphrase.
3 Dead Poets Society (1989)
With his role as inspirational English teacher John Keating at an elite boarding school in 1952, Williams showed his true versatility, capturing the imagination of his on-screen students and real-life young people all over the world. Another catchphrase was born when he instructed his charges to call him "O Captain! My Captain!" -- a reference to the Walt Whitman poem.
4 Hook (1991)
Perhaps the ultimate Peter Pan, Williams shone in this Steven Spielberg take on the classic play, playing a grown-up "Peter Bann" whose relationship with his wife and children have become strained.
5 The Fisher King (1991)
Touching, sweet, poignant, Williams' portrayal of Parry, a deluded homeless man who saves a cynical depressed DJ, played by Jeff Bridges, after both are touched by the same tragedy, won critical as well as popular acclaim.
6 Aladdin (1992)
Williams unwittingly began the trend of serious, popular actors providing voice-overs for animation, thrilling children and adults with his rendition of the Genie in Disney's Aladdin. He had voiced the role as a favour to Disney in gratitude at the success of Good Morning, Vietnam on the condition that his name and image not be used for marketing, promises Disney reneged on.
7 Mrs Doubtfire (1993)
Perhaps his most beloved and most popular role, Williams played Daniel Hillard, a divorced father who inveigles his way into spending more time with his children by disguising himself as a Scottish nanny, Euphegenia Doubtfire.
8 Good Will Hunting (1997)
In his Oscar-winning role, Williams again showed off his serious side as Dr Sean Maguire, a therapist who cares for a genius troublemaker played by Matt Damon.
9 Night at the Museum (2006)
In this fantasy adventure film set in the Museum of Natural History, Williams steals the show as a statue of Theodore Roosevelt, one of a number of exhibits which come to life.
10 Happy Feet (2006)
In his return to animation, Williams played penguins Lovelace and Ramon.
Famous roles
2013
Lee Daniels' The Butler
2011
Happy Feet Two
2009
Night at the Museum: Battle of the Smithsonian
2006
Night at the Museum
Happy Feet
2002
Insomnia
2001
A.I. Artificial Intelligence
1999
Bicentennial Man
1998
Patch Adams
What Dreams May Come
1997
Deconstructing Harry
Good Will Hunting
1996
The Birdcage
Jumanji
1994
Being Human
1993
Mrs Doubtfire
1992
Aladdin
1991
Hook
The Fisher King
Dead Again
1990
Awakenings
Cadillac Man
1989
Dead Poets Society
1988
The Adventures of Baron Munchausen
1987
Good Morning, Vietnam
1984
Moscow on the Hudson
1982
The World According to Garp
1980
Popeye
1978-1982
Mork & Mindy (TV Series)
- AP