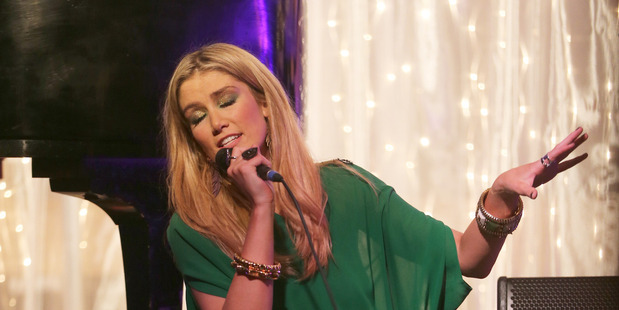 Fresh from having her dance moves causing controversy online, Australian star Delta Goodrem has confirmed a New Zealand appearance in a show where choreography is possibly unrequired.
Goodrem has been announced as the special guest of star tenor Andrea Bocelli at this Auckland show on September 11, the first of six shows on a six-date Australasian tour.
This week Goodrem came to international attention after comedian Marlon Wayans posted a photo of the singer in the audience of a Los Angeles Beyonce/Jay-Z show with the caption: "Man I got the most UNRHYTHMIC WHITE WOMAN dancing next to me at the jay and bay concert." he said on Instagram.
"This b***** dancing to AC/DC."
The African-American comedian, who movies include White Chicks, was accused of racism while Goodrem detractors weighed in on social media too.
Goodrem replied with a light-hearted tweet comparing her dancing to that of Seinfeld character Elaine.
It's unlikely her movies will be put to the test in next month's show with the opera star.

"I am deeply honoured to be invited to join Maestro Bocelli for his upcoming shows in New Zealand and Australia," Goodrem said in a statement.
"Andrea Bocelli is truly one of the most iconic performers of the modern world, his voice is sublime and it is a blessing to be re-joining the maestro on stage soon for the concerts at home."