Poirot's final outing chance for David Suchet to reflect on 25 years playing much-loved Belgian detective.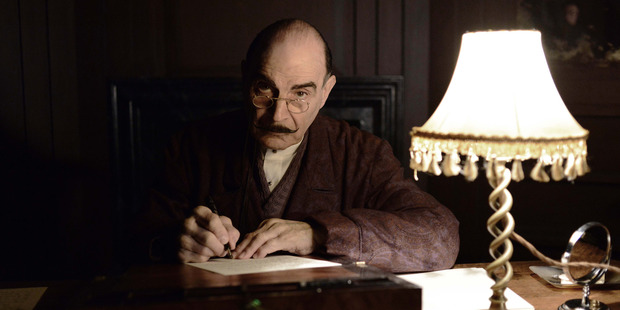 British actor David Suchet has spent a quarter-century bringing to life a certain fussy Belgian sleuth with a moustache as impeccable as his intellect and crime-solving skills.
For Suchet's dedication to Hercule Poirot through 70 TV adaptations of Agatha Christie's works, he has been rewarded with the sort of critical praise - "miraculous" and "splendid" are among the applied adjectives - that any fellow classically trained actor would envy.
Fan reaction can be similarly fervent.
"The most extreme example happened to me in Newfoundland in Canada," Suchet recalled recently. He was there taking a coffee-shop break during production of a movie when suddenly, as in the best of mystery novels, a scream pierced the quiet.
"A lady shrieked, 'I would know the back of that head anywhere!' She rushed across the room and planted a kiss right there," he said, gesturing to his cheek.
The smooch is much-deserved. Suchet's beautifully realised Poirot is a remarkable feat of sustaining a character through an uncertain production schedule in which seasons were separated by large gaps.
It took 25 years to bring the supremely confident, 1930s-era sleuth to his 13th and final season and last case, a reward for the actor's and audience's patience.
After the screening of last night's Being Poirot documentary, in which Suchet reflected on his long-time role, the actor returns on Sunday night for the first of the final five episodes which culminate with Curtain: Poirot's Last Case. Christie readers know to brace themselves for the poignant finale.
The off-screen Suchet shares a set of prominent, deeply arched eyebrows with the fictional detective and little else.
The 68-year-old actor was casually dressed in jeans and a shirt sans necktie or jacket, in contrast with Poirot's attire - and waxed moustache - that's as formal as his old-world bearing. The detective's precise diction is clipped and his demeanour usually solemn, while Suchet's speech flowed in rich, supple British tones, often accompanied by an easy smile.
Their now-ended partnership was both long and fruitful for Suchet. The idea of a big-screen Poirot movie has been floated, but Suchet said he considers that unlikely.
"Poirot allowed me to do big, zonking great roles in the theatre because the television profile for theatre producers means bottoms on seats," he said. "Therefore I can command big roles, and wonderful roles," including such modern favourites as George in Who's Afraid of Virginia Woolf as well as Shakespearean turns.
He received a 2000 Tony nomination for the Broadway production of Amadeus, and has received honours for Poirot and other TV roles, including an international Emmy for 2007's Maxwell.
Suchet hopes to expand his movie career post-Poirot and has retained an American agent. He doesn't seem anxious about the future - except, perhaps, for one key review.
Christie, who died in 1976, was known for disliking any and all screen depictions of the characters in her novels and short stories. Suchet was once reassured by her daughter, however, that the author would have approved of his efforts.
"I still have to meet her at the pearly gates for that to be confirmed," he said.
Who: David Suchet as Hercule Poirot in Poirot
When: Prime, Sundays 8.30pm
- AP