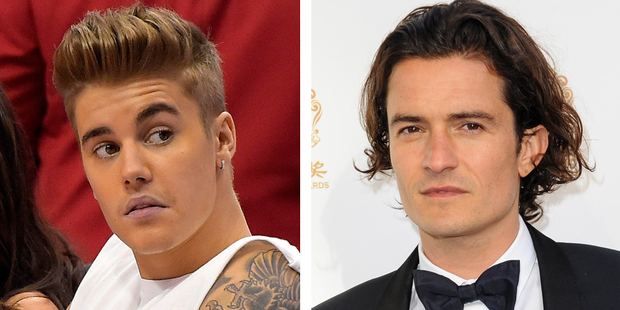 Justin Bieber has declared Instagram war on sparring partner Orlando Bloom, posting a picture of the British actor appearing to shed a tear.
The Baby singer's latest social media contribution comes just a day after Bloom allegedly threw a punch at him in a Spanish restaurant, reportedly over his ex wife Miranda Kerr.
Witnesses told celebrity website TMZ Bieber approached Bloom in Ibiza's Cipriani's restaurant and said "What's up b***h?" before the Lord of the Rings star swung at the 20-year-old.
He ducked just in time, before reportedly telling Bloom, "Say hi to Miranda for me".
The next morning Bieber took to Instagram to taunt Bloom, posting then very quickly deleting a photo of Australian model Kerr in an orange bikini.
The pic, taken at the 2012 Victoria's Secret Fashion Show when Kerr and Bloom were still married, was accompanied by a caption of an emoji crown similar to a tattoo on his upper body.
On Wednesday night Bieber struck on Instagram again, posting a close-up snap of the 37-year-old appearing to wipe tears away from one eye. His 18 million followers had mixed responses to the public backlash.
"I love you justin but this is wrong and two wrongs do not make a right please delete this," wrote one.
Others were more supportive, with one writing: "Stop telling Justin to grow up when Orlando the 30-year-old tried to hit Justin the 20 year old."
But the antics have prompted a wider Twitter backlash against Bieber for being "strange", "soft" and a "scumbag".
"I'm not one for celebrity gossip, but this got me excited! I hope you get him next time Orlando! #kickhisassOrlando," tweeted one user.
Another wrote: "A bee could sting Justin Bieber and some of you idiots would be all "oooooh yeah go bee!"
Bieber and Bloom reportedly have a complex history involving Kerr and Bieber's ex girlfriend Selena Gomez.
Prior to the scuffle, Bloom was pictured strolling the beach with Erica Packer, the estranged wife of Australian billionaire James Packer.
- AAP