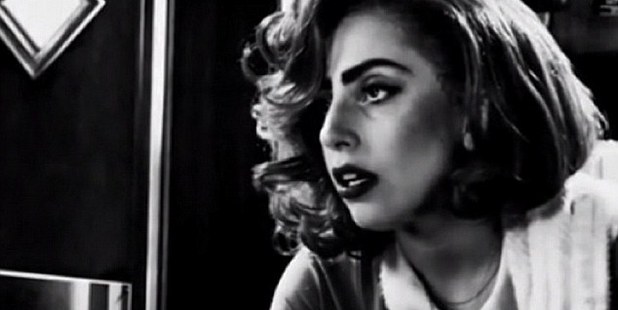 She memorably portrayed a waitress in her music video for Telephone.
And it seems Lady Gaga got back into her server's uniform for upcoming movie Sin City: A Dame To Kill For as she proudly shared a snap of her in character with all of her Instagram followers.
She captioned the image: "It's true! I'll be in Sin City 2: A Dame to Kill For with my favorite scene partner Joseph Gordon-Levitt I love Rodriguez he really killed this one!"
Rodriguez being the film's director Robert Rodriguez who worked on the action thriller along with Frank Miller. The directing duo also collaborated on the first Sin City movie in 2005.
In the sultry black and white shot Gaga can be seen in a diner wearing a waitress outfit with towel slung over her shoulder.
Her short darkened locks are seen neatly styled and flipped over to reveal glamourous curls on the other side.
The 28-year-old pop diva plays Bertha, a waitress who tries to offer money to Joseph Gordon-Levitt's character, Johnny.
The full red band trailer was shown at last week's Comic-con convention in San Diego and shows the cast of anti-heroes up to their usual tricks.
Starring in the next installment is Juno Temple, Eva Green, Jessica Alba, Bruce Willis and Mickey Rourke among others.
The highly anticipated sequel will be released on August 22.
* Watch the trailer for Sin City 2 here (warning: explicit content).
- Daily Mail