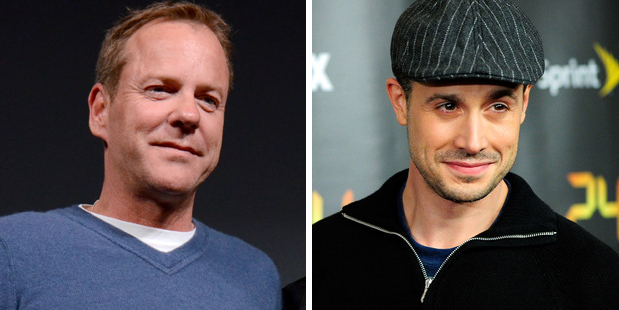 Kiefer Sutherland has responded to a co-star's criticisms that he was "unprofessional" on the set of season eight of 24.
Yesterday, Freddie Prinze Jr said his experience on the hit action show put him off acting for good.
"I did 24, it was terrible. I hated every moment of it," he told ABC News. "I just wanted to quit the business after that. So, I just sort of stopped."
The 38-year-old star said he had found working with Sutherland particularly difficult.
"Kiefer was the most unprofessional dude in the world," said Prinze Jr. "That's not me talking trash, I'd say it to his face. I think everyone that's worked with him has said that."
A representative has since responded to Prinze Jr's criticisms, telling Fox News the actor "enjoyed" working with him.
"Kiefer worked with Freddie Prinze Jr more than five years ago and this is the first he has heard of Freddie's grievances," the rep said.
"Kiefer enjoyed working with Freddie and wishes him the best."
Speaking at Comic Con in San Diego, where he was promoting his new Disney XD series Star Wars Rebels, Prinze Jr poked further jibes at Sutherland.
"I went and worked for [CEO and promoter] Vince McMahon at the WWE (World Wrestling Entertainment), for Christ's sake.
"But, at least he was cool and tall. I didn't have to take my shoes off to do scenes with him, which they made me do [at 24]. Just put the guy on an apple box or don't hire me next time. You know I'm 6 feet and he's 5ft 4ins."
Incidentally, recorded heights for Sutherland range from 5ft 8ins to 5ft 9ins tall.
Following 24, where he played Cole Ortiz, Director of Field Operations for CTU New York, Freddie worked at WWE in the role of producer and director, before appearing in Witches Of East End and Bones.
Freddie is voicing leader Kanan Jarrus in Star Wars Rebels - an animated TV series to air in October and which will tell the story of the origins of the Rebel Alliance as detailed in 1977 movie Star Wars: A New Hope.
- Daily Mail