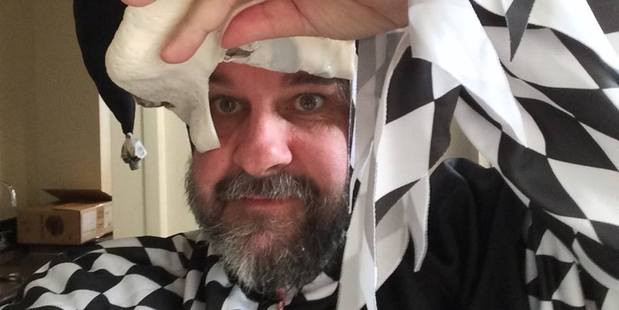 Filmmaker Peter Jackson mingled with fans undetected at Comic-Con in San Diego, California by dressing up as an evil jester.
The Lord of the Rings director, who was there to attend a panel discussion on his The Hobbit film franchise, decided to don a black and white costume with matching face mask so he could enjoy the festivities at the annual bash without being hounded by devotees, and it wasn't until later that night that he went public with his disguise.
He shared a series of photos of himself undercover, posing with other attendees at the event on his Facebook page and included one shot of himself pulling off his face mask to reveal his real identity.

Jackson isn't the only celebrity to dress up for the 2014 Comic-Con event - Daniel Radcliffe donned a Spider-Man costume to roam around the pop culture convention, while Jack Black also tried to go undercover by wearing a suit and covering his face in a Star Wars Stormtrooper helmet - only for him to be recognised by his voice.
The Hobbit: The Battle of the Five Armies launched a full-scale assault on Comic-Con.The cast and crew from the final instalment of The Hobbit trilogy showed off the first trailer for the fantasy film at the pop-culture convention, as well as a blooper reel from both The Lord of the Rings and The Hobbit movies.
Stephen Colbert, dressed as the shaggy-haired character he cameoed as in The Hobbit, enthusiastically moderated Friday's panel at the San Diego Convention Center.
The trailer conjured up for the audience of 6500 attendees gathered inside Hall H showed the dragon Smaug setting Lake-town ablaze, Cate Blanchett's royal elf Galadriel kissing the forehead of Ian McKellen's beleaguered wizard Gandalf and legions of elves and orcs racing into battle.
"That was really just for you, Stephen," filmmaker Peter Jackson said to the talk show host and JRR Tolkien super-fan. "I mean, these other people are here, as well."
Jackson was joined by several cast members for the celebration of all things Hobbit, including Blanchett, Orlando Bloom, Elijah Wood, Evangeline Lilly, Luke Evans and Lee Pace.
They were also joined by Benedict Cumberbatch and Andy Serkis, who portray the computer-generated Smaug and Gollum.
Both actors imitated their fantastical characters when pressed by fans.When asked where he'd like Gollum to visit, Serkis joked "backstage with Stephen Colbert to see what he's got inside his costume, precious".
At the start of the panel, Colbert introduced a lengthy blooper reel that highlighted several funny moments left on the cutting room floor during the 13-year history of the films.
The bloopers mostly featured McKellen riffing on other actors, flubbing his lines and, in one instance, lifting Gandalf's robe to show off a pair of white briefs.
Sir Peter also announced the Hobbit Fan Fellowship Contest, which will see an army of international Hobbit fans soon converging on Middle-earth (aka New Zealand) for a private screening of the third film in the trilogy before the movie's release in December.
A teaser of the trailer for The Battle of the Five Armies was also played for fans.
Watch it below:
The competition will see 150 fans (75 winners, plus one guest each) flown here by Air New Zealand for a week to attend the screening and tour some of The Hobbit trilogy's filming locations.
Air New Zealand chief executive Christopher Luxon said partnering with New Line Cinema, Metro-Goldwyn-Mayer Pictures and Warner Bros Pictures along with Tourism New Zealand was a huge opportunity to promote Middle-earth as a destination.
Competition entries open on August 25. And a Marvel panel at the convention announced Kiwi actress Lucy Lawless would be joining as SHIELD agent Isabel Hartley.
Read more: Potter star's wizard time incognito
- AAP with nzherald.co.nz