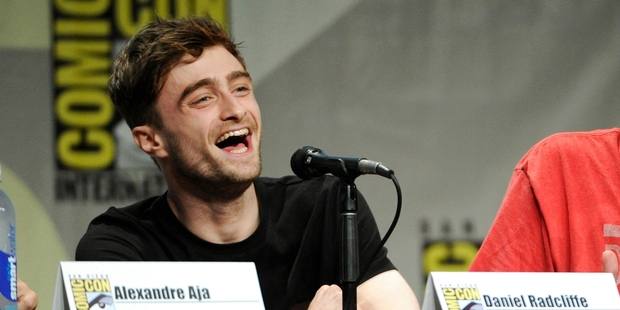 That guy in the Spider-Man suit posing with fans at this year's Comic-Con? It might have actually been Harry Potter.
British actor Daniel Radcliffe donned a Spidey mask to covertly mingle with fans on the showroom floor at the pop-culture convention in San Diego on the weekend.
"I did an American accent for the whole time," he said on Saturday. "I even took a rucksack, so I look like I'm just coming to Comic-Con ... It was great ... I took lots of pictures with people who did not know that it was me."
Radcliffe posed for plenty of photos with other costumed guests, and even inserted his Spidey-masked face into a poster for Sharknado 2.
"[It] actually looked weirdly good," he said. "It looked like Spider-Man is in Sharknado 2."
The 25-year-old star made his first trip to Comic-Con to discuss his new film Horns, in which his character sprouts horns on his head that are invisible to others but cause them to confess to him their darkest truths.
Radcliffe said he had long wanted to come to Comic-Con. Members of the Harry Potter cast have appeared in previous years but he hadn't been able to make it.
Besides promoting his new film, Radcliffe also got to indulge his inner geek while dressed as Spider-Man.
"I always loved that character. I love the comics, actually, as well," he said. AP