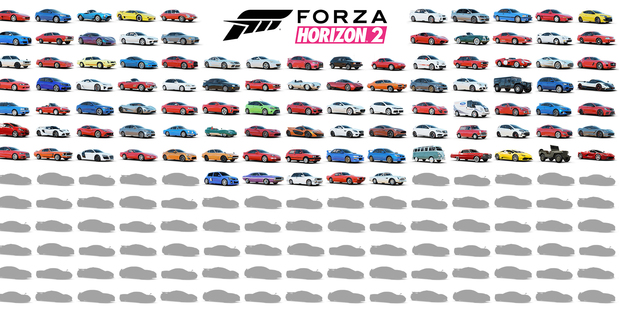 Playground Games has revealed the first 100 cars that will feature in upcoming open world racer Forza Horizon 2.
Just over 200 cars will be included when the game is released on Xbox 360 and Xbox One on September 30.
According to a post on Xbox Wire, all of the cars have been built from the ground up to take full advantage of the power of Xbox One, and include new features like functioning windshield wipers, working headlights and interior lights, and dynamic dirt-mapping.
Here are the first 100 to be revealed:
2002 Acura RSX Type-S
2007 Alfa Romeo 8C Competizione
2011 Alfa Romeo Giulietta Quadrifoglio Verde
1986 Alfa Romeo Spider Quadrifoglio Verde
1964 Aston Martin DB5
2010 Aston Martin One-77
2012 Aston Martin Vanquish
2013 Audi R8 Coupé V10 plus 5.2 FSI quattro
1995 Audi RS 2 Avant
2006 Audi RS 4
2011 Audi RS 5 Coupé
2013 Audi S4
1997 BMW M3
1991 BMW M3
2012 BMW M5
2011 BMW X5 M
1990 Chevrolet Camaro IROC-Z
1979 Chevrolet Camaro Z28
2012 Chevrolet Camaro ZL1
1970 Chevrolet Chevelle SS-454
2014 Chevrolet Corvette Stingray
2009 Chevrolet Corvette ZR1
1995 Chevrolet Corvette ZR-1
1964 Chevrolet Impala SS 409
1970 Dodge Challenger R/T
2012 Dodge Charger SRT8
1957 Ferrari 250 California
1957 Ferrari 250 Testa Rossa
1994 Ferrari F355 Berlinetta
2012 Ferrari F12berlinetta
2007 Ferrari 430 Scuderia
2013 Ferrari LaFerrari
1980 Abarth Fiat 131
2010 Abarth 500 esseesse
2013 Abarth Punto Supersport
2009 Ford Focus RS
1969 Ford Mustang Boss 302
2000 Ford SVT Cobra R
1993 Ford SVT Cobra R
1987 Ford Sierra Cosworth RS500
2011 Ford Transit SuperSportVan
1997 Honda Civic Type R
2006 HUMMER H1 Alpha
2013 Hyundai Genesis Coupe 3.8 Track
1956 Jaguar D-Type
1961 Jaguar E-type S1
1954 Jaguar XK120 SE
1945 Jeep Willys MB
2011 Koenigsegg Agera
1997 Lamborghini Diablo SV
2014 Lamborghini Huracán LP 610-4
1982 Lancia 037 Stradale
2013 Lexus GS350 F Sport
2010 Lexus LFA
1956 Lotus Eleven
2012 Lotus Exige S
2010 Maserati Gran Turismo S
1994 Mazda MX-5 Miata
2011 Mazda RX-8 R3
2013 McLaren P1
2013 Mercedes-Benz A 45 AMG
2012 Mercedes-Benz C 63 AMG Coupé Black Series
2009 Mercedes-Benz SL 65 AMG Black Series
2012 Mercedes-Benz SLK 55 AMG
2011 Mercedes-Benz SLS AMG
1965 MINI Cooper S
1999 Mitsubishi Lancer Evolution VI GSR
2004 Mitsubishi Lancer Evolution VIII MR
2008 Mitsubishi Lancer Evolution X GSR
2010 Nissan 370Z
1969 Nissan Fairlady Z 432
1994 Nissan Fairlady Z Version S Twin Turbo
2000 Nissan Silvia Spec-R
1971 Nissan Skyline 2000GT-R
1993 Nissan Skyline GT-R V-Spec
2012 Pagani Huayra
2009 Pagani Zonda Cinque Roadster
1969 Pontiac GTO Judge
1973 Pontiac Firebird Trans Am SD-455
1987 Pontiac Firebird Trans Am GTA
1973 Renault Alpine A110 1600S
2003 Renault Sport Clio V6
2010 Renault Megane RS 250
2011 RUF Rt 12 S
1965 Shelby Cobra 427 S/C
1998 Subaru Impreza 22B STi
2005 Subaru Impreza WRX STI
2011 Subaru WRX STI
1994 Toyota Celica GT-Four ST205
2013 Toyota GT86
1995 Toyota MR2 GT
2005 TVR Sagaris
2012 Vauxhall Astra VXR
2009 Vauxhall Corsa VXR
2013 SRT Viper GTS
1992 Volkswagen Golf Gti 16v Mk2
2010 Volkswagen Golf R
1984 Volkswagen Rabbit GTI
2011 Volkswagen Scirocco R
1963 Volkswagen Type 2 De Luxe
- Gameplanet.co.nz