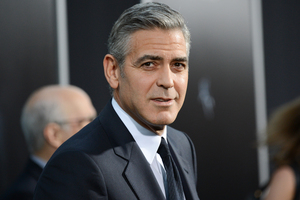 George Clooney has opened up about his feud with a British tabloid, saying it's "fun to slap those bad guys every once in a while".
Earlier this month, the Hollywood star slammed the Mailonline.com - the internet arm of the UK's Daily Mail newspaper - for publishing a false story about his upcoming marriage to British lawyer Amal Alamuddin.
The article suggested Clooney's future mother-in-law was unhappy with the match, and editors at the tabloid subsequently issued an apology, insisting the story was "not a fabrication" but accepted it was "inaccurate".
Clooney publicly rejected the apology, and in a new interview with Variety, the actor admits he continued the feud with tabloid bosses to point out just how inaccurate some of their stories can be.
"It's just fun to slap those bad guys every once in a while, knock them around," Clooney told Variety.
"I would sit with my friends and we'd just go, 'So they just sat at a computer and just went, 'OK, this is what I'm gonna say today.' I mean, literally, because you just go 'There isn't literally an element of truth in this,"' he added.
Although Clooney does not take tabloid gossip too seriously, he fears the publication of rumours could lead to a bigger problem in the media.
"You just laugh, and let it go. I'm used to it after all these years. But the thing that bothers me is how much the Daily Mail is now bleeding into American press and becoming a source for some pretty legitimate newspapers. So that's the thing that worries me," Clooney said.
"That's why you pick your fights at a tabloid. Every day they write things that aren't true, but every once in a while they write something that is actually dangerous to your family, and it's probably not true. And that's the one you pick."
- WENN