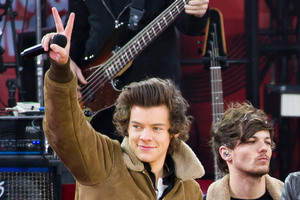 Harry Styles may be an entrepreneur but he's no solo artist, his management has said, following claims that the pop heartthrob is leaving the band to go it alone.
It can be assumed that the hearts of thousands of teenagers imploded this morning upon hints that the One Direction member is making plans to quit the band.
Mr Styles, 20, has instructed an accountant, Alan McEvoy, to create a company called HAS Publishing Ltd with just himself and McEvoy as directors, the Daily Mail said.
It was suggested that the singer is paving the way for an exit by setting up individual entities that help to distance him from the rest of the band, while also making solo recordings in a London studio when he finds the time.
The band's management, however, has said the rumours are a load of baloney.
"Harry has no current plans to release any solo material - his focus is on writing and recording the new One Direction album, and then the world tour which continues in 2015," a One Direction spokesperson told the Daily Mirror.
"The band are (sic) currently recording their fourth album. Their finances are of course private, but each of them are (sic) setting up their own companies as they all write separately for One Direction as well as together."
The boyband is currently on its Where We Are world tour, playing in Porto, Portugal later tonight when it will then have a two-week break before heading on its North American leg of the stadium tour.
They are reportedly being filmed for a sequel to their 2013 debut movie This Is Us.
- Independent