Ray Donovan actor Liev Schreiber has family at heart, no matter what the future holds for TV show.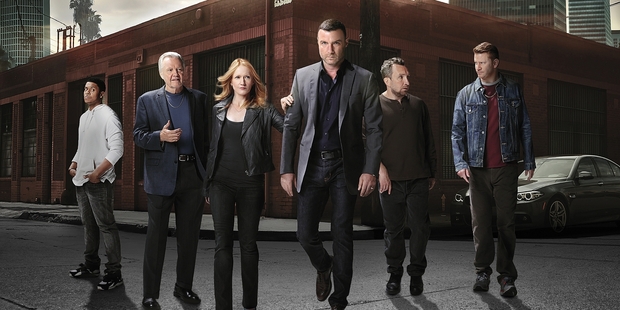 Nothing is more important than family. That's what the stoic Hollywood fixer played by Liev Schreiber tells his wife in the second season premiere of Ray Donovan.
Schreiber says that principle has shaped his career in recent years.
The actor has made it a priority to spend time with his two sons with longtime partner Naomi Watts - 6-year-old Alexander (but called Sasha by his parents) and 5-year-old Samuel. He set aside plans to direct again after 2005's Everything Is Illuminated. He let others guide him into roles in theatre and on screen.
"It's amazing how insignificant everything else becomes," Schreiber said of his fatherhood. "It sounds romantic. But the reality is that you go brain dead for 2, 3 years and slowly return to the world ... you kind of lose all ambition."
"That's part of the thing about acting. It's so easy to follow the career path that's defined by the options presented to you," he said. "Where with directing or producing or writing, there is a lot more self-motivation at play there."
The 46-year-old actor looked as if he had mostly emerged from that haze during a shoot on the set of Ray Donovan.
Schreiber was directing the episode, his first gig outside of commercials in nine years. Sitting in a high folding chair, he reviewed a script, glancing up to watch cameras move into position on a monitor.
Schreiber says later he underestimated the difficulty of "pulling double duty" on the much-praised series, which weaves together stories of clergy sex abuse, unconventional family ties, violence, celebrity and Hollywood powerbrokers.
"In order to do it correctly, you have to watch playback after every take. I just hated stopping ... to see my own performance," he said. "The hard part is directing without vision, without being able to see."
It's unclear what the future holds for Ray Donovan, which also stars Jon Voight, Eddie Marsan and Paula Malcomson. (Voight was nominated for an Emmy last week for his unhinged performance as Donovan's father, Mickey. He also won a Golden Globe for the role earlier this year.)
Schreiber and Watts have been splitting time between New York and Los Angeles to accommodate the shooting schedule. Schreiber says that's been tough on his family. He yearns to return to New York full-time.
"It's really demanding even when I'm not directing," he said. "I should be so lucky to have this opportunity, and to be leading a company like this is pretty special." However, he said, "to be honest, I would like to go home. I'm homesick. ... If we don't get picked up next year, is it a huge tragedy for me and my family? Absolutely not."
Schreiber hasn't had conversations with series creator Ann Biderman about his character's long-term story arc, and often gets scripts three days before shooting them.
"I live literally minute to minute. It is so hard to imagine doing it again and again for me," he said. Still, he's found time to star as Russian chess champion Boris Spassky opposite Tobey Maguire in Edward Zwick's Pawn Sacrifice and has other potential projects in development.
Back on set, Schreiber directs camera operators and fellow actors efficiently with a grim, concentrated look.
After a successful sixth take, he claps his hands once - "We got it".
Schreiber's face lights up when he overhears a visitor mention she recently had a baby.
"Have you been Ferberizing?" Schreiber asks excitedly, referring to a method of sleep training he and Watts used for their sons. For a few minutes, the set fades away: Schreiber is talking about his favourite role.
TV profile
Who: Liev Schreiber, actor director and partner of Naomi Watts
What: Ray Donovan series 2
Where and when: Starts on SoHo, Wednesday, 8.30pm