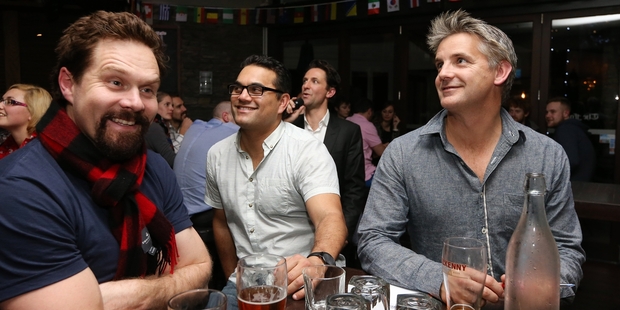 Life imitated art when actors from a popular TV series got together for a quiz night at an Auckland pub ahead of next month's final episode.
Fans packed into the Viaduct's Fox Alehouse on Thursday to take on cast members of Nothing Trivial's quiz team "Sex on a Stick", who lost.
Actors Will Hall (Cory), Blair Strang (Brian) and Shane Cortese (Mac) were joined by Richard Knowles (Richard) to form the fictional team popularised by the axed New Zealand television series.
The show, which ran for three seasons, followed the lives and loves of five friends who competed in a weekly pub quiz.
It was pulled last year after poor ratings during its third season. Outraged fans turned to social media and launched a successful campaign to persuade New Zealand On Air to fund a special, one-off episode resolving storylines.
The drama ended on a cliffhanger with viewers not knowing whether leading lady Catherine was dead after being hit by a vehicle.
South Pacific Pictures spokeswoman Tamar Munch said the two-hour finale, due to air next month, continues where that episode left off.
A TVNZ spokeswoman promised the telefeature would provide conclusive endings for viewers. "All threads will be tied up but I can't say in what direction," said Meredith McGrath. "Fans will have resolution."
TVNZ will announce details of the screening date closer to going air. Last week, the network posted the three seasons of Nothing Trivial on its website for people to watch ahead of the finale.