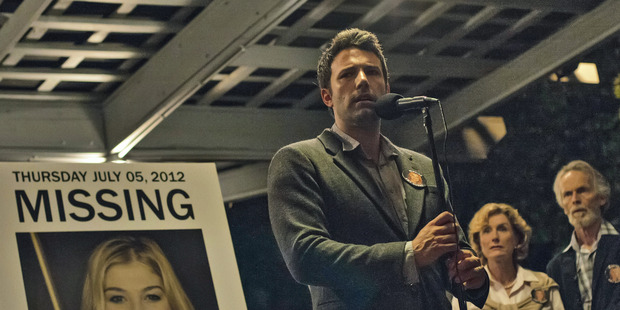 Ben Affleck looks like a very guilty man in the chilling new trailer for the big screen adaptation of Gillian Flynn's Gone Girl.
A new trailer for David Fincher's upcoming film of the best-selling book has just been released.
In it, Affleck's Nick Dunne sits down for a hard-hitting interview about the disappearance of his wife Amy and is told he's "probably the most hated man in America".
Things go from bad to worse as detectives investigating begin to suspect him of her murder.
The tension escalates as viewers catch glimpses of the media circus engulfing Nick's home and life.
Meanwhile, Rosamund Pike's Amy dips beneath a bubble bath to dodge his flare and writes about being scared her husband is planning to kill her in a diary.
"I feel like something to be jettisoned if necessary," her voiceover predicts ominously."I feel like I could disappear."
Neil Patrick Harris also features as Amy's former beau Desi Collings, while Tyler Perry stars as Dunne's pragmatic lawyer Tanner Bolt.
Flynn wrote the screenplay for the film version of her gripping thriller.
Gone Girl is slated for New Zealand release in October this year.
- AAP