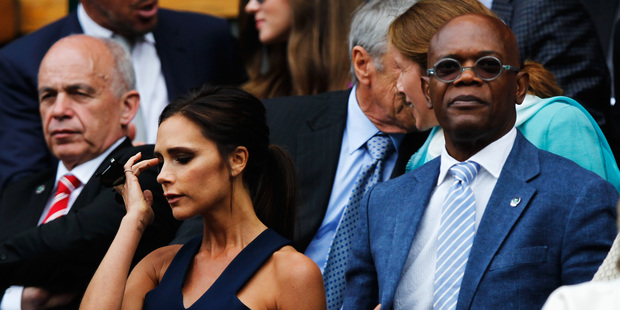 Samuel L Jackson isn't afraid to say what he thinks, and he proved that once more on Twitter today.
The Hollywood star hit back at media outlets who had reported that he had an "awkward moment" with Victoria Beckham as they sat next to each other in the Royal Box during the Wimbledon men's single final.
"Lotta Bulls*** goin' round, I had a ball sitting next to @victoriabeckham at Wimbledon yesterday! Truly Lovely!STFU!! (sic)," Jackson tweeted.
Many viewers of the men's final between Novak Djokovic and Roger Federer had picked up on a moment captured on TV where Victoria seemed to be awkwardly looking away from the Avengers star during a break in play.
This footage was then turned into a Vine video and GIF and shared across Twitter and other social networking platforms, before media outlets reported the supposedly awkward incident.
Victoria was sitting with Jackson on one side and her husband David Beckham on the other.
The fashion designer has yet to respond to the online furore or Jackson's tweet, but she seemed to have had a great time in spite of it.
'So much fun at @Wimbledon today! Congratulations @DjokerNole and @rogerfederer #wimbledon2014 x vb,' Victoria tweeted on Sunday.
The short moment captured by one Vine user didn't reflect the many conversations that seem to be enjoyed by David, Victoria and Jackson during the tennis match.
Jackson was in good company as his Avengers co-star Chris Hemsworth was also present with his wife Elsa Pataky.
- Daily Mail