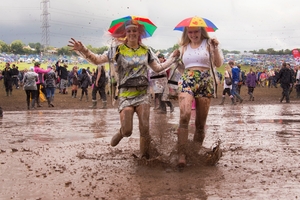 It wouldn't be Glastonbury without mud.
The annual music festival in Somerset, England, got off to a damp start but Gina Birchenough, 20, left and Jess Daveridge, 21, from Bristol, revelled in the conditions.
An electrical storm interrupted power to the Pyramid Stage as lightning streaked the sky and claps of thunder drowned out music.
As torrential rain hit festival-goers, organisers said it was temporarily unsafe to continue.
A 26-year-old man from Reading died after suffering a suspected reaction to the drug ketamine.
Police said he had been taken to Bristol Royal Infirmary in a "life-threatening condition" the previous day.
A 67-year-old woman died at the site from natural causes while police said 85 crimes were reported in the first 48 hours of the five-day festival, a 30 per cent decrease on 2013.
About half were property thefts, with 30 people arrested.
- AP