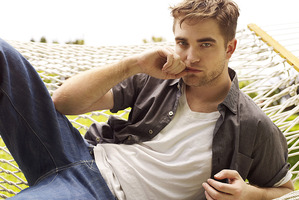 Robert Pattinson claims he can't remember not being famous.
The British actor - who was propelled into the spotlight when he landed a leading role in the Twilight Saga franchise when he was 22 - admits it took him a long time to adjust to being a Hollywood star, but the constraints of fame no longer bother him.
The 28-year-old actor said: "I had a bit of a struggle at first because my life really contracted and I couldn't do a lot of the stuff I used to be able to do. But once I got through that a year or two ago I just accepted my life is something else and now I can't really remember what it was like before, so it's much easier to deal with."
Robert enjoyed filming his upcoming movie, The Rover in Australia, as it gave him a chance to relax away from prying eyes.
He said: "I just loved it because not only was there no one trying to find you, there's no one there at all. I wasn't worrying about anyone trying to sneak up on me or anything so I found it incredibly peaceful and relaxing."
The actor considers Los Angeles home now.
He said: "I spent two months in England last year which is the longest I've spent there in six years, which was nice, but I always go back to England at Christmas time and get so depressed that I'm glad to get back to Los Angeles. I've really grown to like L.A and I guess it's my home at the moment."
But the heartthrob - who split from Kristen Stewart last summer and is rumoured to be dating Imogen Kerr - insists he has never turned to a therapist to help him cope.
He jokingly told the UK's The Telegraph newspaper: "I would love to go into therapy but it makes me too anxious."
But he the added: "I've been talking to a lot of people about it and I don't know. I kind of like my anxiety in a funny sort of way and I like my peaks and troughs. Luckily depression never lasts long with me."
- BANG Showbiz