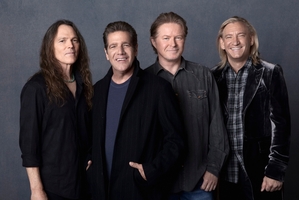 The Eagles have confirmed they'll be swooping in for two shows next March.
News of a second show comes after more than 30,000 tickets to their first show, at Auckland's Mt Smart Stadium on Saturday March 14, were snapped up in minutes.
The second show from the Hotel California rockers will be held on Sunday, March 15.
They will be the band's first New Zealand shows in more than 20 years, and threats of legal action by Mt Smart Stadium residents the Warriors did nothing to harm demand.
A pre-sale for Frontier Touring members begins on June 26, with a general sale beginning on July 1 through Ticketmaster.
Also planning a double dose is Bob Dylan, who has announced plans to perform twice in Hamilton as well as a show in Christchurch.
Dylan's August 9 show at Claudelands Arena in Hamilton has sold out, and he'll be performing there the following night on August 10.
Dylan will also perform at CBS Canterbury Arena in Christchurch on September 10.
It's been a long time coming, but Nick Cave is plotting three New Zealand shows in December.
The Aussie balladeer will be performing at The Civic in Auckland on December 6 and 7, and at the St James Theatre on December 9.
Tickets go on sale on July 3.
Elsewhere, guitar virtuoso Joe Satriani is planning two New Zealand shows in November.
He'll be playing Auckland's ASB Theatre on Saturday, November 1, and Wellington's Opera House on Sunday, November 2, in support of his latest album Unstoppable Momentum. He was last here in 2012.
The My Live Nation pre-sale begins on June 23, and goes on full release on June 27.
Meanwhile, Jackass prankster Steve-O is returning to New Zealand for two dates in August.
The man known for bungy jumping in a portaloo and stapling body parts to other body parts is scheduled to perform on August 6 at the Bruce Mason Centre in Auckland, and August 7 at the Opera House in Wellington.
His show is billed as stand-up comedy mixed with occasional stunts, including occasional stapling.
You have been warned.
- TimeOut