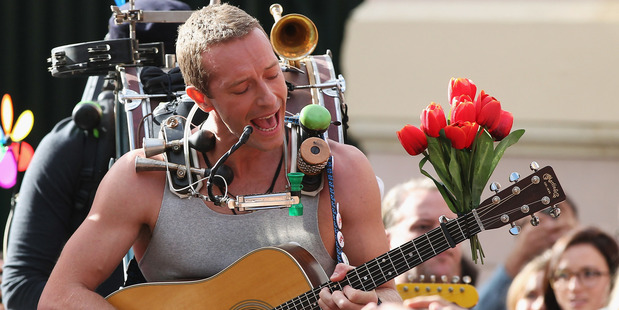 Chris Martin has serenaded hundreds of fans in a small inner-western Sydney park.
The fans had spent most of Tuesday waiting in Newtown for the chance to appear as extras in a Coldplay music video.
The frontman stood on a podium, carrying a one-man-band kit and flanked by his bandmates.
The band were in Newtown to film the video to their single A Sky Full of Stars, from their hit album Ghost Stories, with 250 extras they had invited to be there via Twitter.
We're shooting the video for A Sky Full Of Stars on the streets of Sydney tomorrow. Does anyone want to be in it!? PH

— Coldplay (@coldplay) June 16, 2014
Martin addressed the hundreds of extras who had turned up.
"Thank you all so much for being here," he said.
"But we're going to do it again because I f***** up that time".
The band had just finished the first shot for the video, which involved them walking from Kelly's Bar on King Street.
Carrying their one-man-band kits as they marched through the streets, they were followed by the extras like modern-day Pied Pipers.
They stopped in front of the Martin Luther King "I Have A Dream" mural, before ending up in a park beside the Black Star pastry cafe.
The extras had responded to the tweet sent out by the band's manager, Phil Harvey, on Monday night asking for fans to turn up at the Courthouse Hotel in Newtown.
Martin, dressed in a singlet and looking tanned and happy, spoke from the podium, thanking the fans and the paparazzi "for being nice".
The band then trundled back to Kelly's to prepare to film the shot again.
We've already got 250 fans at #ASFOSvideo shoot location so please DONT COME DOWN if you're not here already. You won't get it in. Sorry!PH

— Coldplay (@coldplay) June 17, 2014
When they returned to the podium, white paper stars were shot out of cannons on either side of the band as they played their song.
"This is going to be on YouTube in three hours," Martin said as everyone held their phones aloft.
He thanked the fans again and told them they would do "just one more shot".
"What a lovely bunch of people," he said to everyone.
On their return, Martin told the crowd the band would play the song live.
#ASFOSvideo @ianhasgreeneyes I hope not - the police will close us down . Only first 250! PH

— Coldplay (@coldplay) June 16, 2014
"This is the strangest recording session we've ever done. We actually are recording this song," he said.
He then sang a live, heartfelt version of the song.
After they had been serenaded, the crowd cheered. Most of them admitted they turned up for the shoot because they hadn't been able to get tickets to see the band's promotional gig in the Enmore Theatre on Thursday.
Harvey said earlier in the day he was relieved so many people turned up.
"When I sent out the tweet last night I thought maybe 20 or 30 people would turn up," he told the crowded beer garden of the Courthouse Hotel on Tuesday morning.
In the initial tweet, Harvey said the first 250 people who turned up before 11.30am would appear in the video.
By 11am, they had reached that number with many fans queuing up since 6am.
"I'm relieved we got the 250 we need," Harvey told AAP.
Thanks to everyone in Sydney who came out to the #ASFOSvideo shoot today. Happy times. PH pic.twitter.com/IL9HXz1PxY

— Coldplay (@coldplay) June 17, 2014
"The only thing that worries me is that I just hope not too many other people turn up because I don't want them to be disappointed".
Harvey said the "one-man-band" idea was to bring back the human element of the song as it was a dance track.
Some of the extras dressed in furry costumes and Harvey himself even made a cameo in a grey koala costume.
The shoot finished up at 3.30pm and every extra who turned up will be able to see their name in the video's credits.
Great video snippet from today's #ASFOSvideo shoot in Sydney (thanks to @CarlaAslan for sending). A https://t.co/gCpQmkdg2n

— Coldplay (@coldplay) June 17, 2014
- AAP