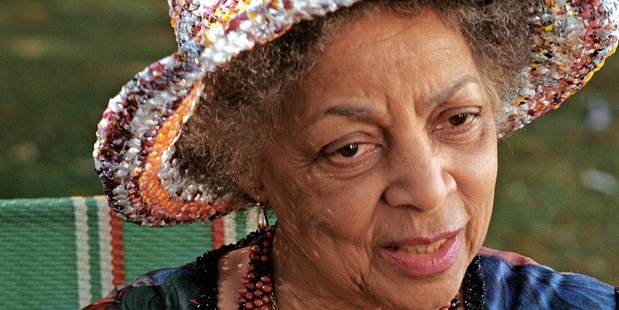 Ruby Dee, the acclaimed African-American actress and civil rights activist whose versatile career spanned stage, radio television and film, has died at age 91, according to her daughter.
In 2006 Dee traveled to New Zealand to played the family matriarch Nanna Maria in director Toa Fraser's film No. 2.

"RIP Ruby Dee from all of us in Mt Roskill, Thank you for coming to the Pacific and helping us to tell our story. With love and gratitude." Fraser tweeted early today.
Nora Davis Day said her mother died at home in New Rochelle on Wednesday night of "natural causes."
Dee, who frequently acted alongside her husband of 56 years, Ossie Davis, was with loved ones, she added.
"We have had her for so long and we loved her so much," Day said. "She took her final bow last night at home surrounded by her children and grandchildren."
Day added: "We gave her our permission to set sail. She opened her eyes, closed her eyes and away she went."
Her long career brought her an Oscar nomination at age 83 for best supporting actress for her maternal role in the 2007 film American Gangster. She also won an Emmy and was nominated for several others. Age didn't slow her down.
"I think you mustn't tell your body, you mustn't tell your soul, 'I'm going to retire,'" Dee said in 2001. "You may be changing your life emphasis, but there's still things that you have in mind to do that now seems the right time to do. I really don't believe in retiring as long as you can breathe."
She and her late husband were frequent collaborators. Their partnership rivaled the achievements of other celebrated acting couples. But they were more than performers; they were also activists who fought for civil rights, particularly for blacks.
"We used the arts as part of our struggle," she said in 2006. "Ossie said he knew he had to conduct himself differently with skill and thought."
In 1998, the pair celebrated their 50th wedding anniversary and an even longer association in show business with the publication of a dual autobiography, "With Ossie and Ruby: In This Life Together."
Davis died in February 2005. Among those who mourned at his funeral included former President Bill Clinton, Harry Belafonte and Spike Lee.
Davis and Dee met in 1945 when she auditioned for the Broadway play Jeb, starring Davis (both were cast in it). In December 1948, on a day off from rehearsals from another play, Davis and Dee took a bus to New Jersey to get married. They already were so close that "it felt almost like an appointment we finally got around to keeping," Dee wrote in In This Life Together.
They shared billing in 11 stage productions and five movies during long parallel careers. Dee's fifth film, No Way Out with Sidney Poitier in 1950, was her husband's first. Along with film, stage and television, their richly honored careers extended to a radio show, The Ossie Davis and Ruby Dee Story Hour, that featured a mix of black themes. Davis directed one of their joint film appearances, Countdown at Kusini (1976).
Both were active in civil rights issues and efforts to promote the cause of blacks in the entertainment industry and elsewhere. Dee and Davis served as masters of ceremonies for the historic 1963 March on Washington and she spoke at both the funerals for Martin Luther King Jr and Malcom X.
The couple's battle in that arena was lifelong: In 1999, the couple was arrested while protesting the shooting death of Amadou Diallo, an unarmed African immigrant, by New York City police.
Among her best-known films was A Raisin in the Sun, in 1961, based on the classic play that explored racial discrimination and black frustration (she was also in the 1959 stage version). On television, she was on the soap operas such in the 1950s and '60s, a rare sight for a black actress in the 1950s and 60s.
As she aged, she continued to reach new career heights. Dee was the voice of wisdom and reason as Mother Sister in Spike Lee's 1989 film, Do the Right Thing, alongside her husband. She won an Emmy as supporting actress in a miniseries or special for 1990's Decoration Day.
She won a National Medal of the Arts in 1995 and a Lifetime Achievement Award from the Screen Actors Guild in 2000. In 2004, she and Davis received Kennedy Center Honors. In 2007, Davis and Dee's book won a Grammy for best spoken word album.
Born Ruby Ann Wallace in Cleveland, Dee was an infant when her family moved to Harlem, New York. She graduated from a highly competitive high school and enrolled in college but longed for show business.
"I wanted to be an actor but the chances for success did not look promising," she wrote in their joint autobiography.
But in 1940 she got a part in a Harlem production of a new play, On Strivers Row, which she later called "one giant step" to becoming a person and a performer.
In 1965, she became the first black woman to play lead roles at the American Shakespeare Festival. She won an Obie Award for the title role in Athol Fugard's Boesman and Lena and a Drama Desk Award for her role in Wedding Band.
Most recently, Dee performed her one-woman stage show, My One Good Nerve: A Visit With Ruby Dee, in theatres across the US. The show was a compilation of some of the short stories, humor and poetry in her book of the same title.
She is survived by three children: Nora, Hasna and Guy, and seven grandchildren.
Day said funeral services will be private but a public memorial is planned.
- AP
Watch the trailer for No.2 here

The following is an interview with Ruby Dee done while she was filming No.2 in Auckland by Rebecca Barry Hill
SHE'S AN AWARD-winning actor whose career has spanned five decades, a civil rights activist dedicated to the African American struggle within the arts and a spirited soul whose acquaintances include Puff Daddy, Don Cheadle and Halle Berry. Yet meeting Ruby Dee feels as familiar as visiting your nanna.
First she'll offer you a glass of homemade ginger beer.
Turn it down and she'll urge you to have something stronger. No? Then how about the weather - are you warm? We're sitting on the balcony of her temporary home, an Auckland waterfront apartment, and she'd hate for her guest to be chilly.
Dee has had plenty of experience at this, having brought up three children and seven grandchildren. She's a family woman who believes in family values. It's one of the reasons she is here, half a world away from her own family in the States, still hard at work at the age of 80.
As the star of No. 2, the New Zealand film adaptation of Toa Fraser's award-winning play, Dee plays Nanna Maria, an elderly Fijian matriarch who summons her grandchildren together to name her successor and impart her wisdom before she dies. For many actors, the prospect of playing a woman with one foot in the grave would be too grim to contemplate.
"Death is part of life," Dee reasons. "Nanna Maria is looking to see that all of the things that she has valued have disappeared from the daily lives of her children but she thinks she can reach her grandchildren. So she's in a desperate, before-death struggle. How do you make them remember some of the things for which she stood, where the family came from, who they are? What happened before the children latched on to fast cars and television? In a lot of people's minds, we let our children go to the mind buyers. We have a battle, we have to put up a bit of a fight. That's what I like about this story."
For six weeks, the actor swapped her life in Harlem for Auckland, where, she notes with amazement, you can sleep with the window of your third floor apartment open without worrying that a murderer will scale the wall. She is intrigued by our "sensible" country, she says, impressed we have a female Prime Minister, and yes, she'll admit her impression is somewhat romantic.
"The first question that came out of my mouth was, 'Where is New Zealand?"' she giggles. "I felt so stupid. That was an eye-opener. I felt somehow there was a big hole in my education. I've travelled a bit but I'm curious.I'm very curious."
Born in Cleveland, Ohio in 1924, Dee spent her formative years in Harlem where she attended the American Negro Theatre, later forging a successful career on Broadway and becoming the first black woman in major roles at the American Shakespeare Festival.
Leonard Maltin's movie encyclopedia immortalises Dee as an "intelligent, empathic actress who got most of the few really good parts written for black women in the 1950s and 1960s".
Her film debut, No Way Out (1950) was a violent tale of race hatred that paired her with Sidney Poitier, whose wife she played seven years later in the gritty Edge of the City.
In The Jackie Robinson Story (1950), Dee portrayed the great ballplayer's wife; 40 years later, she played his mother in a tele-pic.
Younger viewers would recognise Dee for her roles in Spike Lee films, Do the Right Thing (1989) and Jungle Fever (1991). It was her role in the former, playing a an insightful old woman, that inspired New Zealand playwright Toa Fraser to create the matriarch figure central to No. 2.
Fraser, a Fijian-New Zealander, had originally intended the role for a woman of Pacific Island descent.
But as casting drew on, he realised how much he wanted Dee for the role.
"As an actor, she has every single quality in the whole world, man. She has this incredible strength and incredible voice, she's incredibly athletic," says Fraser.
He recalls their first meeting when she rattled off a phrase in fluent Fijian, a testament to years of university studies in linguistics and phonetics. Dee also wrote several children's books, poetry and short stories, and, in 1999, received acclaim for her one-woman theatre adaptation of her book, My One Good Nerve, a joint production of acting greats Sidney Poitier, Harry Belafonte and Dee's on-and-off-screen collaborator, husband Ossie Davis.
Dee and Davis were also major players in the fight for social justice. Close friends of Martin Luther King, they served as masters of ceremonies for the historic 1963 March on Washington, risked their careers resisting McCarthyism and sued in Federal court for black voting rights. Of her many accolades, Dee was celebrated as a "national treasure" in 1995, and in 2000 she received a Screen Actors Guild Life Achievement Award.
Despite this, Dee is uncomfortable with the term, "legend". It makes her think of a statue.
"I don't like to imagine that being put on anybody because it's stifling in a sense, when you have to live up to being a legend. What happens to statues? They just stand there. And the birds - you know what they do on them." Dee and Davis' relationship was also regarded as a yardstick for modern marriage.
In their book they wrote that upon death, they wished their ashes to be placed in the same urn, and marked in an inscription reading Ruby and Ossie - In This Thing Together.
When Davis died in February, they were not. Dee had been in New Zealand for less than 24 hours when she learned that her beloved husband of 56 years had died in his Florida hotel room.
Ironically, he had been filming the movie, Retirement. He was 87.
Dee flew home immediately. At his funeral, Bill Clinton led a contingent of well-known mourners, including Spike Lee, Burt Reynolds and Kweisi Mfume, outgoing president of the National Association for the Advancement of Coloured People (NAACP).
Meanwhile, Fraser says he had no doubts his leading lady would return to New Zealand.
"I think Mr Davis was really passionate about No. 2 and encouraged her to do the movie. She told me before she left that she was looking forward to coming back and celebrating life, which is a big part of No. 2."
Rehearsals were put on hold, and Dee returned to New Zealand two weeks later, Fraser presented her with a whale's tooth, a gift that had been given to him by a family friend when he'd graduated from university.
"I was enormously impressed with that," says Dee, who was familiar with its symbolism, having seen the New Zealand film, Whale Rider. "To obtain the tooth from the depths was considered a rite of passage for a young man but the young man didn't recover it. It was eventually the young woman."
Naturally, the cast and crew were anxious about shooting some of the film's more emotional scenes, says Fraser. But she wouldn't stand for any pussy-footing .
"I know that I was working on a film, from a play based on some truths that hit on actual life," says Dee. "The interweaving of the realities and the non-realities - I find that exciting. Where do stories come from? That kind of thing.
"One of the marvellous things about death is it keeps you reminded of what your goals are, of your history. It's a joining of the generations. There's nothing like a funeral that brings people together." She chuckles heartily.
Inside, on a small table in the apartment living room, a candle burns beneath a photo of Ossie, a small reminder that in her eyes, he never died.
"How dare I not be optimistic?" she says. "Who I am to be pessimistic? This is the most absolutely astonishing set of circumstances that I can even imagine - that's being alive and being on this earth."
During the six-week shoot, Dee and Fraser grew close.
When they weren't filming, Fraser would sit with Dee and listen to her stories and sayings: "You've got to use your own voice because if you don't somebody else is going to use it for you" and "God doesn't give children friends, she gives them parents".
"I suppose she was a bit of a nanna, very much in the Fiji kind of nanna way," says Fraser. "Everyone was really respectful and keen to take the opportunity to have conversations and learn from her. She has lived a life, man.
We'd talk to her about the McCarthy era and growing up in Harlem, shifting furniture around. She used to be a street fighter, she told me. She's got real good knuckles, man. She could pack punch, that's for sure." Dee says the most difficult scene in the film involved her chasing after a pig with a machete.
"When I saw that in the script I thought there was going to be some trick involved, like watching bridges fall or something," says Dee. "So I found that really exciting. I said, well, this is really a stunt. Ruby is going to catch a pig.
And on film I catch him." Bring up the prospect of retirement and she throws her hands up and laughs. Retirement, she says, is not something you choose to do. It shouldn't matter if you're wheelchair bound and staring death in the face.
"What have we got to lose? When you're a few years from the end, why not go out in a blaze of glory. Get slogans and banners and march, snap your teeth, hit the road with some other old folks and get some work done!
"It's just like Nanna Maria. It's her last day on earth but there's something she needs to fix. I like the parallels. I like the fact that as you get older you don't sit around and wait to die. You know what's going to happen, so get busy."