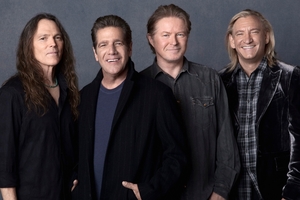 Concerns about potential legal action over an upcoming Auckland concert by The Eagles hasn't hurt demand, with the show selling out in record time.
Promoters said more than 30,000 tickets to the band's March 14 show at Mt Smart Stadium sold out "in minutes" after going on sale this morning.
It will be the band's first New Zealand show in more than 20 years, and promoters confirmed to nzherald.co.nz that a second concert was "under negotiation".
But a legal threat hangs over the show, with the Herald on Sunday reporting the Warriors were considering action over the booking of the rugby league club's stadium on a key weekend next season.
The NRL club claims it was not consulted by Auckland Council before the concert was announced, despite being principal tenant and having priority rights to the ground once the season starts.
"I'm scratching my head that we could be in this situation — I find it extraordinary," Warriors co-owner Eric Watson said. "I'm hoping there is some rational explanation along the way but we need to work out what the options are for the club."
Watson confirmed legal advice had been sought and the club was investigating all options.
- nzherald.co.nz