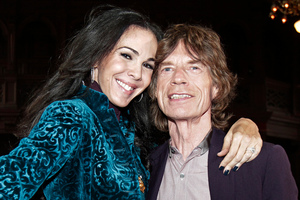 L'Wren Scott's sister has lashed out at Sir Mick Jagger after the singer was photographed on the balcony of his Zurich hotel room last weekend with a young mystery brunette.
The Rolling Stones frontman was seen spending time with the woman just 11 weeks after the fashion designer committed suicide.
Speaking to the Mirror, Jan Shane, 53, said: "And people wonder why L'Wren was so depressed?"
While the rock star is said to have been left "devastated and distraught" after his 49-year-old lover of 13 years was found dead in her New York apartment on March 17, Shane said Mick "will never change" his ways.
"These pictures make me really wonder what Mick is thinking and feeling. His daughter says that he is still heartbroken and so devastated about losing my sister," she said.
"And then you see these photos - he will never change."
Friends say the rock star has been "drowning his sorrows" with women since Scott committed suicide.
They say the mystery brunette in Zurich was not the first woman Mick has spent time with since the death of his girlfriend.
One said: "This is how he deals with things, even in his 70s.
"Through good times and bad, the thing that never changes is Mick's love for women. Sex is like a coping mechanism for him."
According to reports, Jagger spent two days with the woman after meeting her in a Zurich nightclub following a Rolling Stones gig.
A source said a smiling Jagger had deliberately posed on the balcony "to show he's back in business".
"He doesn't do anything by accident."
The Rolling Stones are due in New Zealand at the end of the year for a concert that was rescheduled after Scott's death.
* See the photos here.
- Daily Mail