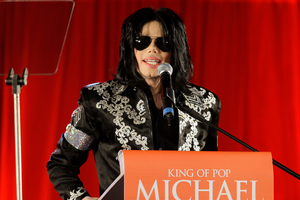 Michael Jackson's longtime manager once planned to have the King of Pop kidnapped and admitted to a rehab facility in a desperate bid to save the superstar from his drug demons.
Ron Weisner, who guided the singer's career at the height of his fame with hit albums Off The Wall and Thriller, has opened up about his attempts to help his famous client in his new memoir, Listen Out Loud.
In the book, Weisner reveals Jackson's friends and family became deeply concerned about his painkiller dependency.
This followed serious burns to his scalp during an infamous Pepsi commercial accident in 1983, when the King of Pop's hair caught on fire while filming.
Weisner claims their efforts had little affect on the star and it prompted him to come up with a more drastic plan of action, which he outlined to sister La Toya Jackson.
In excerpts obtained by the New York Post, he recalls advising her "I'd snatch him.
I'd get some people to grab him, take him to some rehab facility in the middle of nowhere."
It was only in 2006, when the King of Pop had taken up residency in Bahrain, that Weisner was given the go-ahead to execute the plan.
He writes: "That's exactly what this was, a kidnapping (on) the other side of the world ..."
However, La Toya pulled the plug on the mission and Weisner admits it was probably for the best.
"There was little question that (the law) would view this as a kidnapping rather than an attempt to help a colleague," he said.
Weisner, who ended his partnership with Jackson in the late 2000s, also recalls his final meeting with the pop icon, days before he died in June, 2009.
"He hadn't looked really healthy for a good long while, but this was a whole other level," Weisner writes.
"I thought, 'He looks like a goddamn prisoner of war.' He had that look in his eyes ... a look of resignation, a look that said, 'It's over,' and it broke my heart."
- Bang! Showbiz