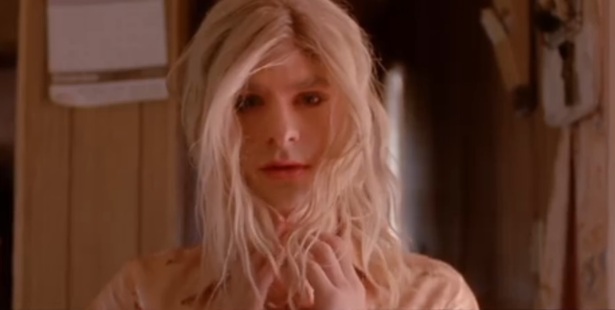 Arcade Fire frontman Win Butler has hit back at critics in defence of his band's latest music video, starring Spider-Man actor Andrew Garfield in drag.
The video, for gay rights song We Exist about a son coming out to his dad, shows Garfield's character shaving his head in front of a mirror and crying, donning a blonde wig, white dress and pink eye make-up, being assaulted by men in a bar and dancing a surreal dream sequence, before joining Arcade Fire on-stage at Coachella.
"The right to marry anyone you want is a human rights issue," Butler has argued. "It's one of the darker tendencies of humanity to think everyone should fit into a mould."
But while many praised the video, Against Me! trans singer Laura Jane Grace expressed her disappointment that a trans actor had not been picked for the role Garfield plays.
Grace, herself an Arcade Fire fan, went on to compare casting non-trans actors in trans roles to "white actors in blackface" that "inaccurately plays on and perpetuates stereotypes".
"It's called We Exist and there is literally no sign of that existence represented," she said. "Should have been called They Exist. When you come from the perspective you're representing, it's truth and powerful."
Dear @arcadefire , maybe when making a video for a song called "We Exist" you should get an actual "Trans" actor instead of Spider-Man?

— Laura Jane Grace (@LauraJaneGrace) May 22, 2014
Butler has now responded in an interview with The Advocate, arguing that casting a film star gave the video more impact and reach.
"For a gay kid in Jamaica to see the actor who played Spider-Man in that role is pretty damn powerful, in my opinion," he said, admitting he could "totally see the sensitivity of the issue".
David Wilson, who directed the We Exist video, added that he considered casting a trans person but Garfield's passion won him the part.
"Before I got on the call, I thought, 'Is this the right person, should we be using a transgender person?'" he said. "But then getting on the phone with Andrew, and Andrew's commitment and passion toward the project was just overwhelming.
"For an actor of that calibre to be that emotionally-invested in a music video is just a very special thing. It just completely made sense."
On Sunday night, Grace talked to trans musician Our Lady J, who coached Garfield for the video. She insisted that the portrayal was of "a young man who is exploring his gender, not a realised trans woman".
Grace then tweeted that Our Lady J's perspective had "really made me think about it differently".
Arcade Fire have yet to respond to Grace directly.
Watch We Exist here:

- Independent