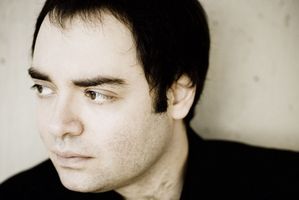 Next Saturday, Alexander Melnikov is the featured soloist in the New Zealand Symphony Orchestra's Russian Fire concert.
While the orchestra, under conductor Alexander Lazarev, plays Rachmaninov's Caprice Bohemien and Shostakovich's final symphony, its Russian pianist will give us the Schumann Concerto.
A few years back, Melnikov charmed Aucklanders by casting a recital around the German composer's Carnaval. When I talked to him last week, he was immersed in something of a travelling Schumann roadshow with the Freiburg Baroque Orchestra. Melnikov tackles the Piano Concerto, while violinist Isabelle Faust and cellist Jean-Guihen Queyras take on their respective concertos.
"As well as recording it all, we're taking the programme to nine European cities," says Melnikov.
This is Schumann with a difference. "It's all on historic instruments," the pianist confirms, praising his fellow musicians for "doing a hell of a good job.
It's conducted by Pablo Heras-Casado and it's so nice of him, being such a star, taking this project so seriously."
He sighs when I ask what the reception has been like. "The historic approach is never simple," he says. "Some people immediately fall in love with it; others are more used to a traditional approach."
Melnikov admits that this year has been "completely crazy with all the different music I've been doing". Nevertheless, he is pleased with his just-released CD of Beethoven trios working with Faust and Queyras.
Ten years have passed since Melnikov first heard violinist Faust and "fell in musical love with her playing". Now they are an established team, giving what many feel to be the definitive recordings of Beethoven's violin and piano sonatas. "We keep being interesting for each other. We still haven't come to the point where it's predictable."
The new CD sees Melnikov relinquishing the concert grand for an 1828 Viennese fortepiano, which is one reason why the performances have such buoyancy and zing. But how does he find crossing the centuries, changing from one instrument to the other? He laughs. "Ideally I like to have two or three days just on the one, without touching anything else, but it doesn't always happen."
Next Saturday he is once more in the concert hall, this time with the NZSO. Although he says playing in a big hall with a large orchestra is not necessarily his favourite form of music-making, he does confess to being "a bit paradoxical".
"I'm always trying not to let anything lapse," he explains. "If I notice it's been a while since I've played a certain piano concerto, then I'll make sure it happens."
Melnikov describes his work with Freiburg Baroque Orchestra as more on the level of chamber music, but there are rewards to be had working with bigger forces.
However, Schumann's music is "not robust", he cautions. "You cannot even slightly overdo it in tempo or dynamics, and Mr Lazarev and I will have to agree to some sort of general context. I'll be coming from doing completely historical interpretations, using Schumann's original metronome marks and all."
Performance
What: New Zealand Symphony Orchestra
Where and when: Auckland Town Hall, Saturday, May 24 at 7.30pm