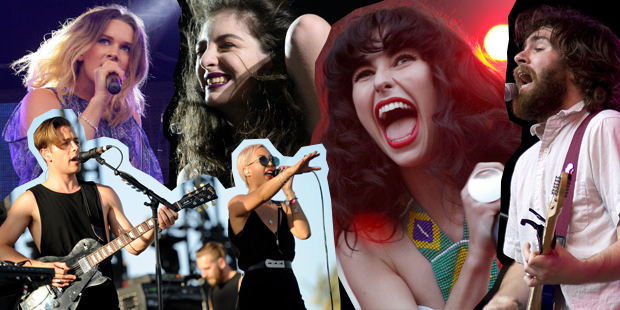 The Naked and Famous, who have returned home to perform a sold out show in Auckland tonight, have found a great deal of success overseas. The band has done especially well in the US, where they recently received rave reviews for their Coachella sets. But TNAF aren't the only kiwis on the world's stage.
Read more: Chris Schulz talks to Thom Powers of The Naked and Famous
It almost goes without saying that Lorde has truly taken over the planet, while synth-pop duo, Broods, who also worked with producer Joel Little, are making a few ripples of their own.
Then there are singers like Kimbra, who is set perform on a tag-team tour with Janelle Monae, or Brooke Fraser, who found success in Australia. Both song-birds have new albums due out later this year.
Liam Finn has proved to be popular both in the UK and the States and dubsteppers Mt Eden are massively popular with one of their videos receiving over 40 million views on YouTube.
The amount of amazing Kiwi music out there is unreal and it is great to see so many artists doing well out there in the big wide world.
Those acts and more feature in today's playlist, curated by entertainment reviewer Rachel Bache. Enjoy the YouTube playlist below, a double whammy of awesome songs and rad videos.
Warning: Some songs contain explicit language.
- nzherald.co.nz